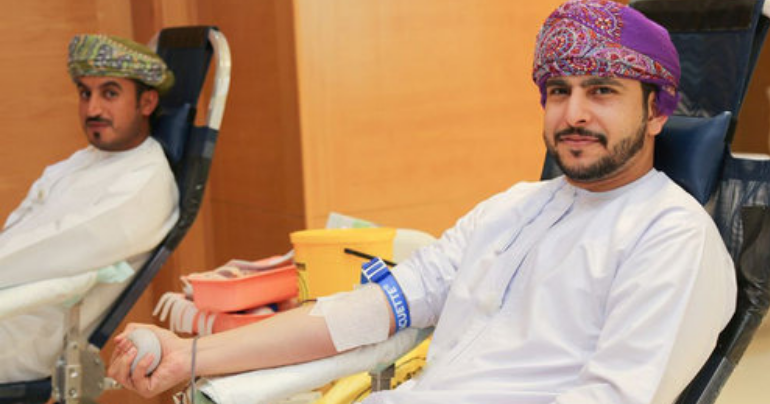 DON'T FORGET TO DONATE BLOOD DURING THE SUMMER SEASON
The number of blood donors in Oman registered an increase of four per cent in 2018 as compared to 2017.
A total of 56,670 people donated blood in 2018. However, there is a consistent need for more donors, as donations are hard to come by especially during the summer season, said blood banks and voluntary teams.
According to the National Centre for Statistics and Information (NCSI), of the total donors registered in 2018, 81 per cent were Omanis, with Muscat governorate recording the highest number of donors at 25,946.
The Governorate of Musandam recorded the lowest number of donors at 993.
To raise more awareness regarding the importance of blood donations, the Oman Blood Donors (OBD) team in cooperation with the Ministry of Health (MoH) commemorated the World Blood Donor Day that falls on June 14 every year. More than 80 people donated blood on the day to mark the event. The commemoration event was held under the patronage of Said bin Ali al Kalbani, member of the State Council at the Mall of Muscat.
Speaking to Muscat Daily, Ahmed al Kharusi, an honorary team member who has donated blood 150 times, said, "The Oman Blood Donors team in cooperation with the Central Blood Bank in Bausher organised this event to honour those who donate blood regularly.
"More than 80 blood donors participated in this campaign. The campaign aimed to encourage people to donate blood, especially during the summer months. The campaign also aims to inculcate a culture of blood donation among members of society."
Listing out some of the possible reasons that may be preventing people from donating blood during the summer months, Kharusi said, "Unfortunately, many people are reluctant to donate blood when the temperatures rise. But one needs to know that donating blood has many benefits be it summer or winter. Donating blood is an opportunity for yourself to get checked by a medical practitioner. Besides, blood banks are always in search of blood."
The team currently has 40 nationals and around 65 expatriates. This group includes students and professionals. "Our team will continue to organise more blood donation campaigns in various governorates of the sultanate to help the blood banks overcome any shortage. We urge members of the community to participate in these campaigns and donate blood," added Kharusi.
OBD can be reached on Instagram at Oman Blood Donors as well as through the email: OmanBloodDonorsOBD@gmail.com
tag: -blood-donors , oman- , oman-blood-donors
Share This Post
YOU MAY ALSO LIKE
COMMENTS