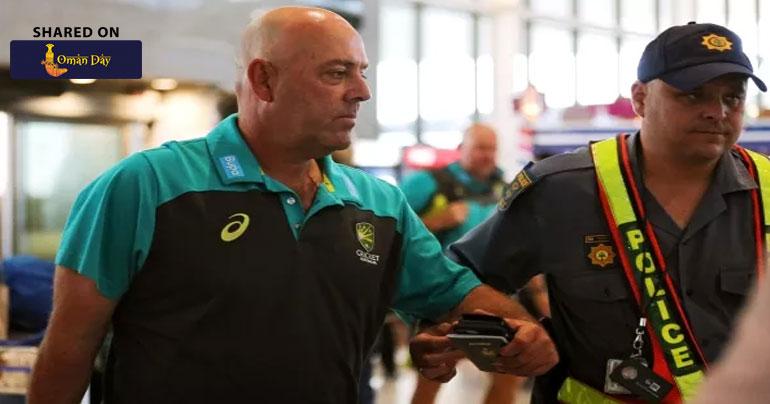 Lehmann wants forgiveness for banned trio
Australia coach Darren Lehmann has apologised to the public and called for forgiveness for the "grave mistake" made by the trio of Test players banned for their role in the ball-tampering scandal that has rocked the sport.
He promised a change in approach to the game from Australia, reeling not only from the scandal but accusations of boorish behaviour and playing contrary to the spirit of the game.
An emotional Lehmann, cleared of any wrongdoing by a Cricket Australia investigation, told reporters on Wednesday that the banned players, Steve Smith, David Warner and Cameron Bancroft, were "not bad people" and called for them to be given a second chance as he expressed concerns over their mental state.
The coach also said the team would need to improve their behaviour on and off the pitch in order to win back fan respect after Bancroft was caught tampering with the ball in the 322-run third Test defeat by South Africa at Newlands.
"I would like to apologise to the Australian public and the cricket family. What happened on Saturday is not something that is acceptable from the Australian cricket team," Lehmann told a news conference restricted to Australian media.
"The players involved have been handed down various serious sanctions and they know they must face the consequences. They have made a very grave mistake, but they are not bad people."
Smith and Warner, who have been sacked as captain and vice-captain respectively, were banned for 12 months, while opening batsman Bancroft was suspended for nine months.
Human side
"As a coach you feel for them as people," added Lehmann. "They are hurting and I feel for them and their families.
"There is a human side of this. These are young men and I hope people will give them a second chance. Their health and well-being is extremely important to us.
"I worry about the three guys immensely. We love all of our players and they are going through a really tough time.
"I'm not going to resign. We need to change how we play. Previously we butted heads but that's not the way to play going forward. I need to change," he said.
However, Lehmann avoided a question over whether he was responsible, as many pundits have suggested, for the 'in-your-face' style of the Australian team.
The coach reiterated that the first he knew of the ball-tampering incident was when he saw it on the big screen at Newlands, and said he was confident it was a one-off incident and had not been part of the team's playing culture in the past.
"The first I saw of it was on that screen, I got straight on the walky-talky and said something. There were a couple of expletives in there. Then I spoke to the players at tea time and said we would deal with it at the end of play, which happened through the process.
"I am confident it is an isolated issue and a grave mistake. It's never happened before in speaking to those guys."
Trio backed
Contrary to various media reports, Lehmann said the trio of players had the backing of the entire team, despite their actions.
"When you lose three men in your team, who obviously made a mistake, that hurts all of us. Saying goodbye to them is difficult.
"The whole group is upset and we understand the enormity of it and the public perception. We have to try and win the fans back over and play the best cricket we can.
"If we take a leaf out of someone like New Zealand... we push the boundaries on the ground, so we need to make sure we are respecting the game and its traditions."
Lehmann also backed Smith to resume his international career when he had served his 12-month suspension.
"He is going to come back a better person, there is no doubt about that. To see the hurt in him over the last three or four days, you just feel for him."
Lehmann was speaking to Australian media only, after local South African journalists and international news agencies were barred from the news conference.
Cricket Australia later supplied other media, including Reuters, with an audio file of the proceedings.
"It is not unusual for travelling teams to hold exclusives for their travelling media contingent. It's as simple as that," CA spokesman Tim Whittaker said of the exclusion.
How the world reacted
MICHAEL VAUGHAN, former England captain
"Steve Smith I think is a good guy who made a huge mistake. He needed punishing but I think this is too harsh. Bancroft who I don't know was led astray but deserved punishing but again too harshly IMO (in my opinion). The other guy I really don't care about."
TOM MOODY, former Australia all-rounder
"What happened in South Africa is incredibly sad on so many levels but what appears clear in my view is the punishment certainly doesn't fit the crime."
HARSHA BHOGLE, cricket commentator
"I honestly do not believe any other country would have handed its captain and lead player a 12 month ban for attempted ball-tampering."
SHANE WARNE, former Australia spinner
"We are all so hurt and angry and maybe we weren't so sure how to react. We'd just never seen it before. But the jump to hysteria is something that has elevated the offence beyond what they actually did, and maybe we're at a point where the punishment just might not fit the crime."
JOHN HOLDER, former Test match umpire
"The problem with cricket is this perception that cricket is a gentleman's game. Cricket is not a gentleman's game... as you get more and more money in cricket the pressure to win big money increases. Cricket now is about winning and players will cheat... do whatever they can get away with."
SANJAY MANJREKAR, former India batsman
"As expected, CA have been very strict in their punishment to the offending players. The major take away from this is how critical your track record is."
MOHAMMAD KAIF, former India batsman
"So with the one year ban on Smith and Warner and also a two year captaincy ban on both, think India will be favourites when they tour Australia later this year. Wonder, who will captain Australia at the World Cup. Aaron Finch?"
tag: international-news , sports
Share This Post
YOU MAY ALSO LIKE
COMMENTS