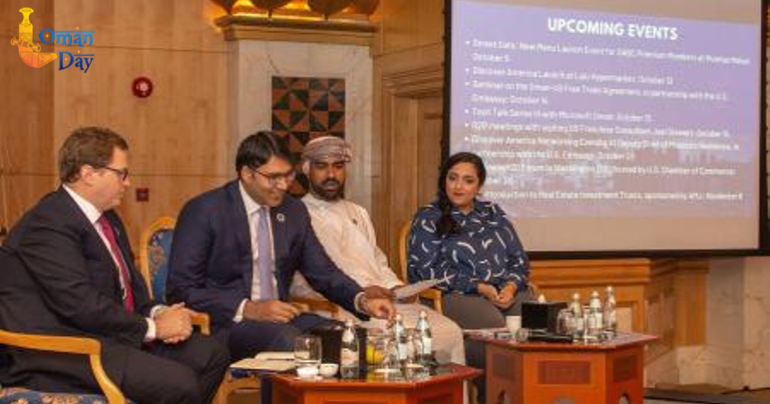 OABC presents the Evolving Tax and Legislative Landscape in Oman
Muscat, Oman : Members of the Oman American Business Center and guests from the Muscat business community attended a tax and legal presentation on Monday, October 7th. The OABC event covered the evolving legislative landscape in Oman, and was hosted in partnership with EY Oman & Clyde & Co.
Experts from Clyde & Co and EY discussed new laws issued over the summer, which were designed to promote business in Oman. These include the five Royal Decrees on Privatization, Bankruptcy, Foreign Capital Investment, Partnership Between Public and Private Sectors and additional amendments to the tax laws. A lively Q & A session closed the meeting, as many professionals from companies in a variety of sectors sought to understand these new decrees, laws and amendments fully.
"The Oman tax landscape is evolving at a faster rate than ever before with the ultimate purpose of creating a sophisticated and robust fiscal system which can support future economic growth," says Alkesh Joshi, Partner and MENA Tax Leader at EY Oman. He continues,
"Certainly there are a number of challenges ahead, but the speed at which the government is responding to these challenges by way of legislative changes should provide sufficient encouragement for continued economic prosperity."
Marla Valdez, Managing Partner at Clyde & Co in Muscat, comments, "The recent reforms indeed come at a strategic time. They reflect the Government's intention to create a more robust regulatory environment to attract investments and encourage the private sector to play a more important role in Oman's development. By improving the public and private sector cooperation in the Sultanate, the new laws should ultimately boost the economy and enhance its competitiveness."
"Our organization and its members are very thankful to today's presenters for helping to spread awareness and bring understanding about Oman's present legal and tax environment, as well as changes soon to come," said Rebecca Olson, Executive Director of the OABC. "These changes will effect every business. This is just the sort of event members of the OABC expect to attend and gain valuable insight from, and we are glad for the excellent turnout and information shared today."
tag: oman , american , business , center , muscat , omanday , omannews , royal , decrees
Share This Post
YOU MAY ALSO LIKE
COMMENTS