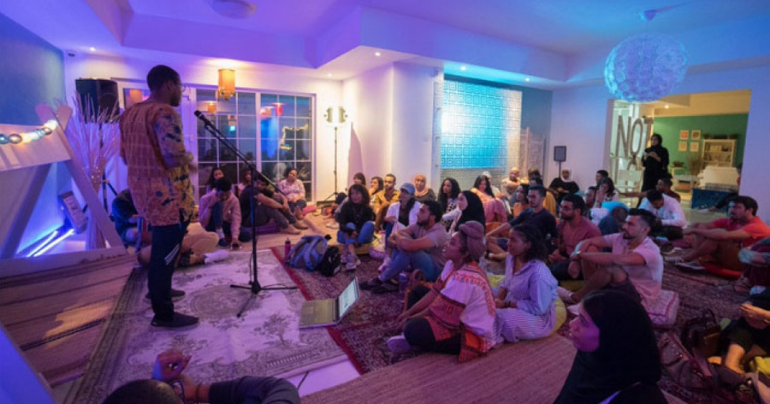 Out of the bag: Powerful Omani tales tumble out at local event
Citizens and residents in Muscat gathered for a safe space event where people were encouraged to share true stories, some funny, some heart-breaking, about themselves as part of the True Story Tent.
Abdullah Al Maawali, the founder of True Story Tent, told about the idea behind the event: "In its simplest form, True Story Tent is a moving space for people in the Middle East to share their stories. In other words, we put together a series of Story Nights at different locations where people can join in to share and listen to true personal stories."
The latest event from the tent was on Thursday and took place at Whispers of Serenity, where people were able to share true stories about themselves.

Basma Al Abriya, who has attended three of the nights so far, described the events as a form of therapy, saying that she found a lot of the stories inspiring and relatable. Basma also told about the story of how she learned to love herself and overcome what others thought of her.
Al Abriya said: "Basically, the story that I shared was talking about how I used to hate seeing myself in the mirror. I couldn't stand taking full pictures of myself. I had this neighbour who made a big deal out of my body image and said that nobody would marry me because I'm fat and all, but then I went through an extremely hard diet where I starved myself almost to death. I actually lost 11 Kgs in one month, which was crazy."

Al Abriya learned the hard way that sometimes, pleasing others simply doesn't work.

"I focused on loving myself, and I was listening to a lot of hip-hop and music, and I rapped in that event a song from J Kole called Crooked Smile. That story was basically the beginning of my self-love journey and the reason behind loving my image. My image wasn't everything, so I focused on everything: physically, mentally, spiritually. I learned to accept myself and my flaws because they are what makes me beautiful."

Asked about some of the stories that he would never forget, Al Maawali said: "The first one that comes to mind is a storyteller from our Dubai Story Night who shared the story of when he lost an eye as a kid. He recounted the experience and what he had to go through with such vivid colours, that it will remain ingrained in my mind for a long time."

Some of the stories that people felt comfortable enough to share openly can be found in podcast form. However, Al Maawali said that if the attendees want to keep themselves anonymous, their stories would never be shared, and no one would even take images of them at the event.

Al Maawali added that talking about yourself can be terrifying.

"The goal has always been to create a space where people would feel safe to share their stories. A space with a vibe that enables them to open up and to be vulnerable in front of a group of strangers. It is through this vulnerability that we collectively begin to rise above the taboo and to evolve towards better versions of ourselves," he added.

Despite the great idea, it isn't easy for some to get up and speak about their experiences. "From what I've seen, pretty much everyone is scared to go up and share their personal story." Al Maawali said. "I once had a storyteller with a lot of public speaking experience tell me that she was more nervous about sharing her personal story at our Story Night than she usually is in her public speaking gigs. And I can understand that. Opening up a part of yourself to a group of strangers is a frightening prospect for many. The fear of judgment is real".
tag: muscat , event , local-event , true-story-tent , oman
Share This Post
YOU MAY ALSO LIKE
COMMENTS