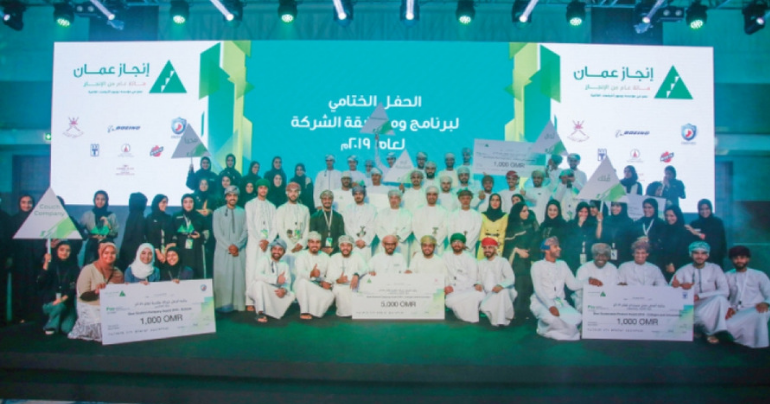 Mahya and Couch bag 'Best Student Company' titles
INJAZ Oman hosted the grand finale of its flagship Student Company Programme and Competition yesterday at the Oman Convention and Exhibition Centre (OCEC).

Start-up ventures competed to win the evening's main title, 'Best Student Company 2019'. In the schools competition, "Couch emerged as the winner, taking home a prize of OMR1,000 while in the college and universities category, 'Mahya' won the first prize of OMR5,000. Both teams now go forward to represent Oman regionally after impressing the judges with their strong business concepts.

Yumna Al Shaqsi, the CEO of Mahya which creates feed for freshwater fish farms, told Times of Oman: "The competition literally reshapes any participant. Mahya has worked days and nights continuously and sometimes with sleepless nights but eventually it has paid off.

"Having a team that works together like a family is the actual victory," she added.
Khaula Al Harthy, Executive Director of INJAZ Oman, said: "I congratulate all the winners of this evening. They have done a fantastic job and their hard work has finally paid off. This was yet another year of witnessing impressive concepts. These students are Oman's future decision and change makers. We are excited for them and their future."

"Through INJAZ Oman's Student Company Programme, we strive to educate them about entrepreneurship and motivate them to consider it as a career option. This will encourage them to actively participate in the Sultanate's business sphere. This competition gave them the feel for business and life outside the classroom. They had been given a platform to overcome personal and professional challenges and the win added to their self-growth and confidence," she added.

In the future, Mahya aims to continue improving its products.

Al Shaqsi added, "Prozolla [the fish feed] will contribute to the economy of the industry and hence food security which surely helps diversify the economy. By this, Oman will become self-sufficient and produce its own supply to fit demand."

Mahya has already won agreements to continue developing their work.

A statement by the Ministry of Agriculture and Fisheries read, "We congratulate Mahya on winning the prize as the best student company in INJAZ Oman's 2019 competition. The Ministry, represented by the Centre for Fish Farming, has recently signed a memorandum of cooperation with the company in the field of producing feed for fish inside fish farms, as well as to provide advice and incentives for the company to produce its products."

The event was hosted by His Highness Sayyid Harib bin Thuwaini Al Said, Assistant Secretary General of the Council of Ministers for Conferences.

According to INJAZ, "The winners will represent Oman at INJAZ Al Arab's regional competition later this year."

High profile and senior level business figures attended the evening to witness the final showdown. Al Raffd Fund bestowed the 'Best Student Company Award 2019 – Colleges and Universities' and also delivered the award for 'Best Innovative Product Award 2019 - Colleges and Universities' to 'ONU Education'. WJ Towell honoured 'Fulk' with the 'Best Sustainable Product Award 2019 - Colleges and Universities'. OMNIVEST presented the award for 'Best Student Company 2019 –Schools' and also handed 'Twinkle' the 'Best Sustainable Product Award 2019 – Schools'. 'Best Innovative Product Award 2019 – Schools' was given to 'Techno Shoes' by OMNIVEST as well. Boeing conferred 'Nokhal' with the 'Best Elevator Pitch Award 2019 – Colleges and Universities'.

During the two-day event, each competing team of bright young entrepreneurs was required to give a business presentation, undergo vigorous interviews with the panel of judges, and showcase and sell their products or concepts. Through this process, strengths and weaknesses of the student companies were identified. The evaluation process was developed to confirm whether participants understood the aspects that impact businesses, thereby reinforcing their learning as a strong foundation for building sustainable operations.

INJAZ Oman, which was established in 2006, "works with students between the ages of 6-25 years through implementing programmes in middle schools, high schools, vocational colleges and universities," according to the organisation.
tag: student-company-programme-and-competition , oman-convention-and-exhibition-centre , start-up-ventures
Share This Post
YOU MAY ALSO LIKE
COMMENTS