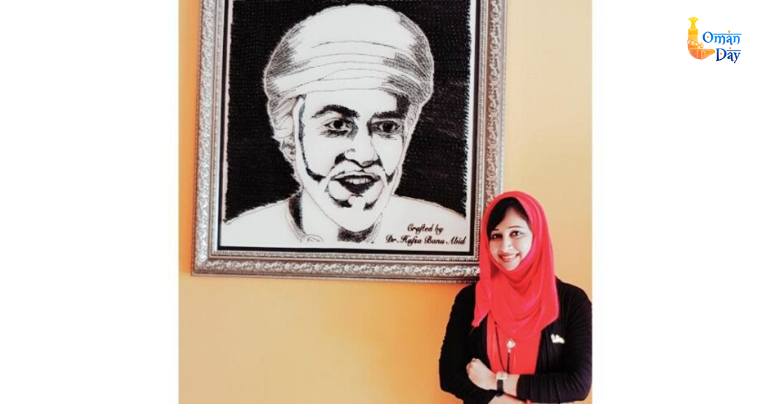 Muscat: Mangalurean dentist Dr Hafsa Banu is unique artist in Oman
Muscat, Nov 8: Dr Hafsa Banu Abid, a professional dentist at Al Qurm, Sultanate of Oman, who runs a dental clinic, 'White Smile Dental Specialty Clinic', is the daughter of Sheikh Zainul Abid and Haseena Banu, who hails from Attavar, Mangaluru. She happens to be the wife of Dr Ejaz Salim Khan from Thiruvananthapuram, India and is a lot more than what her practice demands. She has an artistic approach to everything in life, including the intricate tasks of her profession, and has conjured up something artistically special for Oman's 49th National Day.
An ex-student of Indian School Muscat, Dr Hafsa did her degree in dentistry from Yenepoya Dental College, Deralakatte in Mangaluru. Dr Hafsa creates unique artworks with nails and strings and is the only artist of her kind in Oman as well as the GCC region.
With scores of tiny nails mounted onto a wooden frame, Dr. Hafsa creates magical images with colored nylon threads by weaving them in varied patterns with dexterous movements of her fingers.
Last year, she presented a black and white portrait of His Majesty Sultan Qaboos bin Said, to the Diwan of Royal Court, which acknowledged her effort with a reward. This year, too, she has created something special, which will be presented to the Diwan to mark the 49th National Day. She, however, wishes to keep the creation under wraps until it is presented.
Passionate about art since childhood, Dr. Hafsa says that she nurtured this talent all by herself, without any formal training, although 'nail art', as she calls it, has been practiced since many years across the world.
tag: hafsa , banu , abid , qurm , sultanate , clinic , speciality , omanday , oman
Share This Post
YOU MAY ALSO LIKE
COMMENTS