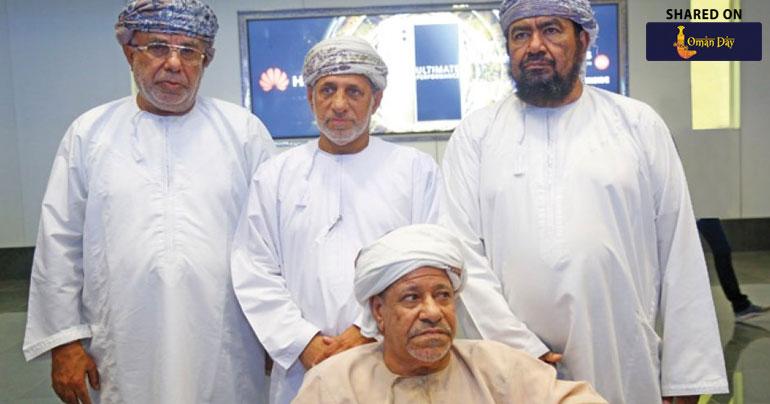 Video: Home at last for three Omanis held in India
It's a homecoming that these three Omanis have been eagerly awaiting.
After being told that they have no case to answer in an Indian child brides scandal, Suliman Al Shiyadi, Mohammed Al Shiyadi and Yasir Al Awadi finally reached Muscat International Airport on Wednesday evening and were accorded a grand welcome from family members.
"The committee is very pleased for the release of citizens and this is a good gesture and we call on the Indian authorities to accelerate the trial of others and achieve justice and that detainees take their rights. We respect the Indian judiciary," said Vice-Chairman of the Oman Human Rights Commission, Yousuf Al Afifi, who was present at the airport to greet the freed men.
A large number of their family members and friends gathered at the airport after they were acquitted by an Indian court one week ago.
"We are back to the country and we are in good health, thank you to all who contributed to our return and proof of our innocence, and we hope that the remaining five will soon return to the country and I am happy to see my children and grandchildren who greeted me at the airport. We are finally back home," said Suliman Al Shiyadi, who arrived to see 20 members of his family waiting to greet him.
"I can't believe we are back in Oman," Mohammed Al Shiyadi said.
Al Shiyadi added: "We would like to thank everyone who supported us, Oman's human rights commission, the embassy, the ministry of foreign affairs and in addition, Al Shabiba and the Times of Oman."
After 200 days of detention in India, all three Omanis men arrived in the Sultanate just before 6pm on Wednesday.
The story made headline news globally and all of the detained Omanis protested their innocence.
They were detained while the Indian Police Service investigated whether they had travelled to India to marry child brides.
Those detained said they were "medical tourists" wrongly accused of crime.
Yasir Al Awadi said: "I am glad that our innocence has been proven to my family and to the country. We were arrested in September for no reason."
"We all struggled , I had my brother with me who is partially paralysed, even the men I travelled with me, Suliman suffers from vision issues while Mohammed has kidney problems," Yasir added.
He said:"It is a very special feeling, I'm very happy to be home."
On the arrival of Omanis at the airport, Jameel Al Saeidi said: "I am happy that my friend Yasir has finally returned after being away for six months. When I will first see him, I will give him a big hug and congratulate him, then we will return together to Al Mussanah."
The three were arrested along with five others in September 2017. The fate of the five others is yet to be decided.
On March 31, an Indian court in Hyderabad issued a decision to release three of the eight men who were detained in India.
Fathi, Mohammed Al Shiyadi's son told the Times of Oman: "I cannot describe how happy me and my family are to have my father back, we have been waiting daily for this day to come."
He added" we heard about the news of their return at 10 am on March 31 and since then I have been anxiously waiting to see him again."
Mohammed, Suliman's son said: "This is a great day and a great achievement, my father's innocence has been proven."
"We are hopeful the other five will be released soon," Al Afifi said
Al Afifi added: "The commission efforts are in line with the authorities in the Sultanate and the Omani Embassy in New Delhi, and we are in coordination with the Indian Human Rights Commission to solve the issue."
Share This Post
YOU MAY ALSO LIKE
COMMENTS