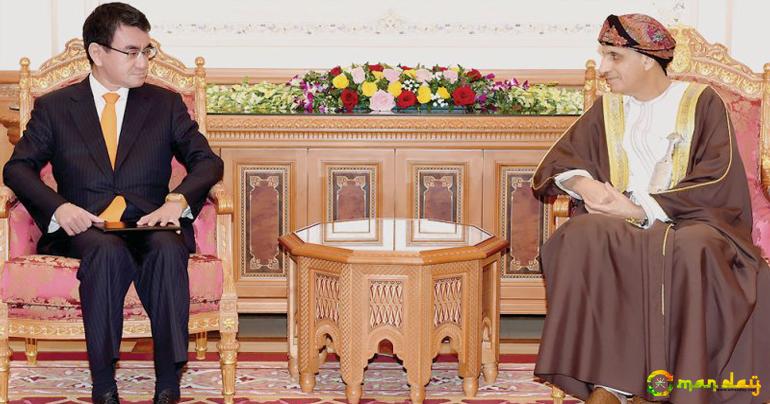 Japan offers technical support to Sultanate
Japan will sign an agreement with Oman to extend technical assistance in all fields, Japan's Foreign Minister Taro Kono said on Wednesday. Taro, the first Japanese foreign minister to visit the Sultanate in 27 years, expressed the intent to further strengthen partnership and cooperation between the two countries, especially energy, oil and gas, tourism and water. Japan's prime minister had visited the Sultanate in 2014. In a press conference jointly addressed by his Omani counterpart Yusuf bin Alawi bin Abdallah, Taro expressed his satisfaction with the continually growing bilateral relations between Oman and Japan. "There is a lot we can do together. We look for more cooperation in all sectors," he said.
Taro was in Oman as part of his Middle East visit with the objectives of 'Free and Open Indo-Pacific Strategy', which calls for promoting stability and prosperity of the region as a whole. Expressing concern over the developments in the Middle East, Japan offered its assistance for combating unrest in the region. "Japan's economy is directly connected to the Middle East, so we have a big role to play," he said. He called for constructive steps for advancing the peace process, strengthening bilateral relations and providing assistance to refugees.
He also expressed his gratitude to Oman for its support to Japan during the crisis following earthquake in March 2011. At the outset, Alawi said the two countries and their peoples enjoyed strong relations in various fields. He said both the countries are working towards supporting bilateral cooperation to promote business. "Japan's support to Oman has been outstanding. We expect more investment from the country especially in projects in Duqm," he said. Later briefing the media, Norio Maruyama, Press Secretary, Ministry of Foreign Affairs, said the minister has been on the Middle East visit with the objective of implementing the policies announced in Manama dialogue based on 'Kono Four Principles'.
They include intellectual and human contribution, investment in 'people', enduring efforts and enhancing political efforts. Referring to the technical assistance to Oman, Norio said it will be a kind of cost-sharing agreement. "Japanese professionals will be sent to Oman to share their expertise with their local counterparts. Expenses will be borne by the Omani government," he said. According to him, both the sides will strengthen cooperation in the energy sector using Japan's advanced technologies. "The investment agreement signed in July 2017 gives a lot of opportunities to both the countries," he said.
...[ Continue to next page ]
tag: oman-news , technology
Share This Post
YOU MAY ALSO LIKE
COMMENTS