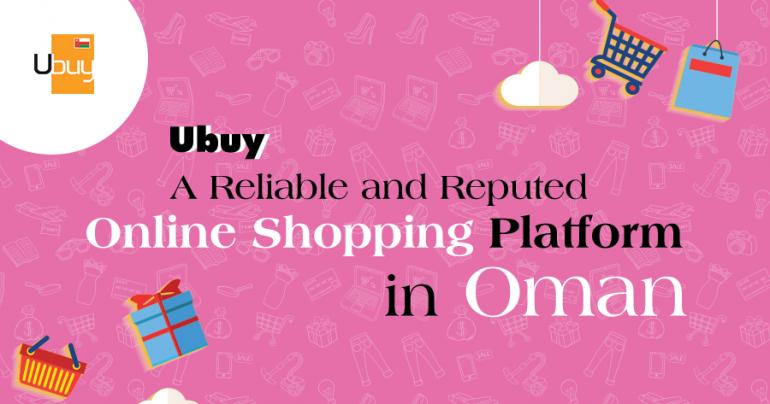 Ubuy: A Reliable and Reputed Online Shopping Platform in Oman
The Ecommerce market in Oman is still in the nascent stage and accounts for very less percentage of the total sales. It does have ample scope to grow and expand in the future. But the global Ecommerce market has been growing leaps and bounds in recent years and would cross the 2 trillion USD mark by 2021 with a share of 14% of total global sales.
The Covid 19 induced lockdowns and social distancing norms have led to the rapid growth of online shopping in Oman. Technological advancements in the field of telecommunication and introduction of 4G and 5G have helped many customers across the region to explore the potential of online shopping.
Ubuy Oman is playing a major role to provide Omanis with a reliable shopping platform to get most of the things they would need to have a better lifestyle. Ubuy provides its customers with multiple options to choose from a wide range of over 50 million diverse local and globally branded products.

Ecommerce Trends in Oman
The last couple of years have seen the accelerating digitalization and growth of multiple businesses in the ICT sector. The Omani government has been promoting e-governance initiatives and building an inclusive "digital society" to uplift the lives of people and enhance service delivery.

According to a report published by the "Digital Oman," there are more than 3.7 million active internet users in Oman which constitute about 77% of the total population. Oman has a high smartphone penetration which further enables them to embark on a digital journey more efficiently. According to a study conducted by NCSI (National Centre for Statistics and Information), the internet subscribers have surged to around 473,487 subscribers in 2019 while the active mobile broadband subscribers have risen to 4.73 million subscribers.
The growing adoption of 4G and 5G technologies are also driving the growth of online shopping in Muscat, Salalah, Sohar and other regions of Oman. Customers are slowly exploring this new shopping trend and are able to realise the convenience and benefits it offers. The Oman Telecommunication company has planned to set up more than 2226 5G sites by 2024 to further increase internet penetration throughout the country.
About Ubuy Oman
Ubuy was initially launched in 2012 in Kuwait to provide customers with a unique and special online shopping experience. It is not just another regular shopping platform but aims to be something new and refreshing. It is one of the top online shopping service providers in Oman and also provides similar services to people in 90 countries.
Over the years Ubuy has expanded its services and presently offers more than 15 categories of diverse global products in categories that include electronics, mobiles, beauty products, sports products, office products, fashion & jewellery, baby and toddler essentials, books, pet supplies and musical instruments.

Ubuy is slowly growing in popularity in Oman. They offer their customers the latest branded local and global products to suit the taste and preferences of most people. Ubuy does charge its customers for the customs and freight duties according to the prevailing charges in a particular country. The services of DHL are utilized to ship all products purchased on Ubuy to the address provided by the customers. Ubuy only sells legally permitted products according to the import policies of each country.
The ubuy brand is quite active on popular social media platforms like Instagram, Twitter, Facebook and Youtube. Ubuy also manages a very popular blog covering a diverse range of interesting topics like travel, shopping, festivals, electronics, cellphones, etc. Customers shopping on Ubuy can pay with VISA, Amex, Paypal etc.
All the products and goods ordered through Ubuy will be delivered to the address provided by customers. Ubuy also provides customers with the option to choose their products from 8 global stores just by clicking on a preferred country store. The US, UK, Germany, Kuwait, China, Japan, Hong Kong and Korea stores are the country based stores that are available on the Ubuy website.
Is Ubuy Oman a Secure and Trustworthy Store?
The Ubuy website is a technologically superior HTTPS site where the "S" stands for a secure and safe connection. All communications between the customer's browser and the Ubuy website are encrypted to enhance safety.
It is a legitimate and trustworthy store that is registered and has been providing millions of customers with high-quality local and global products. The company always uses the latest technologies and systems to safeguard all its website services and provide a seamless online shopping experience to its customers.
The dedicated customer service team at Ubuy is available 24/7 to track and follow up on any customer queries and complaints. If any customer receives an incorrect or damaged product by mistake; they will get a full refund according to the return and refund policy of Ubuy.
Ubuy Oman Reviews
Most of the customers who prefer to shop on Ubuy Oman have given their reviews on highly reputed and reliable sites like Trustpilot and Google Shopping, etc. Such reviews help Ubuy to fine-tune its services and make better decisions.
Conclusion
Ubuy has been working hard from the start, to carve a niche for itself in the global Ecommerce space. It wishes to be different and unique when compared to other Ecommerce players in the market. The Ubuy Oman website is very fast, modern, trendy, customer-friendly and very responsive. All the products purchased on Ubuy are shipped from 8 international warehouses located in different countries. Ubuy does offer all its valuable customers a wide range of genuine branded products, to fulfil all their needs and desires.
tag: ubuy , online-shopping-platform , oman
Share This Post
YOU MAY ALSO LIKE
COMMENTS