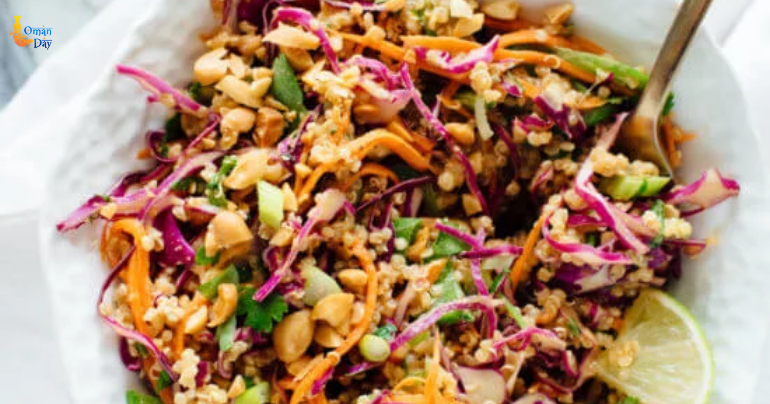 Crunchy Thai Peanut & Quinoa Salad
I tend to keep to myself, especially in yoga class. It's not a very social form of exercise, you know? Last year, when I walked into my usual Tuesday evening yoga class and my instructor shouted, "COOKIE AND KATE," I froze. Kim, a regular in the class, had learned about my blog through her co-worker, and she said, "I know her! I go to yoga with her!"
Then Kim told Kristina, the teacher, and then everyone found out. Including Amie, one of my favorite instructors, who is great friends with Kate Kasbee of Well Vegan. Kate lives in Chicago and was working on a cookbook called Frugal Vegan at the time.
Through the Amie-Kate connection, I got a sneak peek at Frugal Vegan and wrote a blurb for the back cover. "Frugal Vegan offers an incredible array of fresh and simple vegan recipes. Every single one of them manages to be easy to make, affordable and accessible, too."
Kate came to town for Amie's birthday party, so I met her for drinks, and a giant green bug landed in her herbed green cocktail. Are you still following? I can't make this stuff up.
Kate and I bonded over the trials and tribulations of cookbook-making, our love for our funny-looking pups, and the green bug experience. We practiced our half-moon poses at Amie's backyard birthday party the next day. Maybe I shouldn't be so shy about my work, since it opens so many fun doors.
Today, I'm sharing a delicious recipe from Frugal Vegan, featuring cabbage, carrots, green onion, snow or snap peas, and cilantro—all fresh, affordable, and loaded with nutrients and fiber. Toss all of that in an addictive homemade peanut sauce for a crisp, colorful, Thai-inspired salad. Enjoy it as a light summer dinner, and pack up the leftovers for tomorrow lunch.
The book's recipe calls for millet instead of quinoa. I picked up all of the other ingredients at the store, while assuming that I had millet in my pantry at home. I did not, so I used quinoa instead. Millet is less expensive but quinoa has more protein, so take your pick accordingly. It'll turn out great either way.
tag: omanday , salad , peanut , recipe , quinoa , thai , health , foodie
Share This Post
YOU MAY ALSO LIKE
COMMENTS