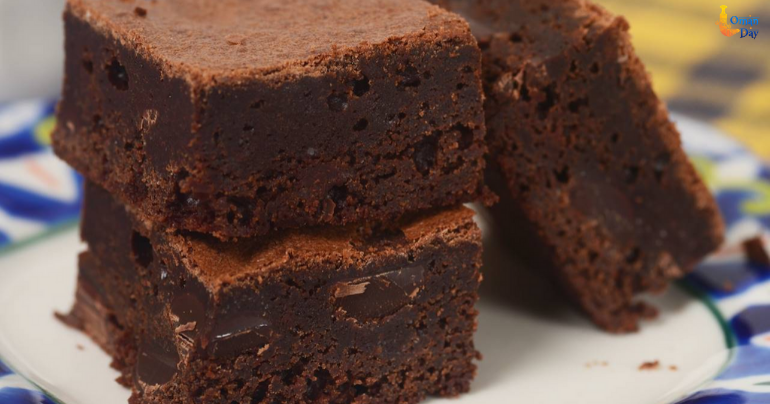 How to Make Brownies
A step-by-step guide for How to Make Brownies that will give you fudgy, chewy brownies in no time at all.
Homemade brownie recipe
I am a sucker for a dense fudgy brownie. Every single brownie recipe on my blog is stick to your teeth fudgy but today's simple brownie recipe is more on the chewy side.
I took my favorite brownie base, the one I used for these double chocolate brownies and modified it until I achieved a chocolatey, chewy brownie.
It's hard for me to sway from my beloved brownie recipe. It's the base for chocolate cherry brownies, Nutella Brownies, and candied pecan brownies. It's really the only brownie recipe I use.
Until today!
I love this new recipe I'm presenting to you. There's so much chewy chocolatey goodness here.
I used less chocolate than I normally would. More chocolate equals a fudgy brownie but I was going for chewy.
And the best part is this brownie recipe comes together in just one bowl just like my easy vegan brownies.
How long do you put brownies in the oven?
Bake brownies for about 25-30 minutes, or until a toothpick inserted in the center comes out with a few moist clumps clinging to it. There will also be a little batter stuck to the toothpick but it shouldn't be covered in thick uncooked batter. Take care not to overbake brownies.
Main brownie ingredients
Butter – is necessary for a rich, chewy brownie.
Chocolate – use both melted baking chocolate and cocoa powder.
Sugar – not only will sugar add sweetness, but it will also melt during baking and help with the chewiness.
Flour – the more flour you use, the cakier a brownie will be. Typically I use 1 cup of flour for super fudgy brownies but for this recipe, I added 1/4 cup more.
Eggs – the main structure of brownies. I also added an extra egg yolk to get more chewiness.
How to make brownies?
Step 1: Melt the chocolate and butter
Melt the chocolate and butter in a heatproof bowl set over a pot of barely simmering water. Keep stirring as it melts.
You can also use a microwave-safe bowl and heat in 30-second intervals stirring in between until fully melted.
Step 2: Mix in the sugar
It's important to add the sugar while the melted chocolate is hot. The sugar will melt ensuring the baked brownies aren't grainy.
Step 3: Mix in the eggs and vanilla
Let the chocolate mixture cool before adding the eggs so they don't scramble. Then whisk them in really well with the vanilla.
Step 4: Mix in the flour and cocoa powder
Add the flour and cocoa powder then use a silicone spatula to fold it in just until it's incorporated. Take care not to overmix.
Step 5: Bake
Bake the brownies for 25-30 minutes in a 350°F oven. Use the toothpick test to check for doneness. There should be a little batter and a few moist crumbs clinging to the toothpick.
Tips for this easy brownie recipe
Let the melted chocolate cool before adding the eggs so they don't scramble. Also, make sure the eggs are at room temperature so they are easy to mix in.
Sift the flour and cocoa powder to remove any clumps. This will make it easier to fold in.
Use a light-colored metal pan for baking brownies. They heat slower and more evenly.
Don't overbake the brownies. Use the toothpick test as instructed above.
tag: brownies , fudgy , chewy , health , food , dish , snacks
Share This Post
YOU MAY ALSO LIKE
COMMENTS