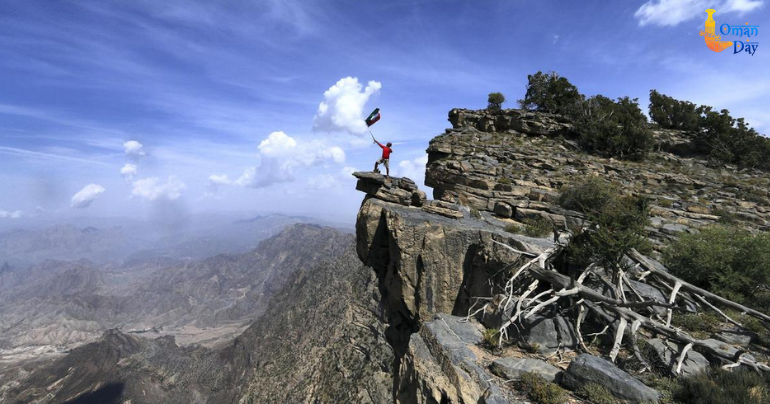 Hiking in Oman: Everything you need to know
From Al Buraimi Oasis to the Al Akhdar region, verdant Dhofar and the scenic Musandam peninsula, Oman's varied landscapes are rich in adventure. A haven for all types of adventure traveller, from the inexperienced to the intrepid, the country offers an abundance of hiking trails, rock-climbing and caving, with routes including both beginner treks and lengthy hikes on which signposting is scarce and terrain can be treacherous. Guides are recommended for these latter routes.
Explore the Hajar Mountains
Jebel Akhdar (Beginner/intermediate level)
A hike into the past, the trails through the ancient Hajar mountain range – known as the Grand Canyon of Arabia – offer a glimpse into another era. Abandoned villages perch on the edge of plateaus, falaj irrigation streams weave through date palms and emerald pools beckon. It's vibrant and greener than most hikes you'll find in the UAE. The Jebel Akhdar mountain is a fascinating area to trek, and there are hidden gems to be discovered along the way.
Expect serene walkways that take you far from the bustle of city life, with everything from blooming pomegranate trees to abandoned villages. Temperatures here, at an elevation of 2,000 metres, are at least 10 degrees cooler than in nearby Muscat.
That means it provides a welcome retreat from the summer heat, and hoodies, hats and gloves in the cooler months, when temperatures often drop to single figures at night. Don't forget your swimwear, as natural pools are an inviting place to swim, and there are plenty of caves to explore. While this is not an easy stroll, the walk is more a day of exploration than a brutal challenge. Wandering through deserted villages and age-old date farms, meeting locals along the way, you'll discover there is still much life in this rocky landscape. Though this is far from an advanced hike, expect a small amount of bouldering and a handful of steep ascents.
Alila Jabal Akhdar overlooks the Jebel Akhdar range in Oman. Courtesy Alila Hotels and Resorts
UAE Trekkers organises a two-day adventure exploring the flora and fauna of Jebel Akhdar. The trip takes in wadis, dams and plateaus. Day one is an 11-kilometre trek that takes about seven hours to complete and day two is a 5km trip, spread over three hours. Only four-wheel drives are allowed on the mountain and this is enforced with a police checkpoint. Most hotels in the area can organise transfers.
Jebel Shams (Intermediate/advanced level)
The highest mountain in the region, Jebel Shams towers at 3,009 metres. Located in the western Hajar mountains, it offers hikes that come with breathtaking views of Wadi Ghul, an abandoned village to the northwest of Hamra.
Experienced hikers can reach the summit of the mountain in seven hours, but there's plenty to keep adventurers busy over a couple of days with a night spent camping under the stars.
A shorter option is the Balcony Walk – a two to three-hour hike along the rim of the canyon. This covers less terrain, but still gives you all the views to enjoy. It's well-marked and finishes at a small village called Sab Bani Khamis.
Wadi Tiwi (Intermediate/advanced level)
One of the most lush areas of Oman, Wadi Tiwi is located in the Al Sharqiyah region, near Tiwi Village.
One of Oman's greenest areas, Wadi Tiwi is located in the Al Sharqiyah region near Tiwi Village. With its stunning pools – a favourite for hikers to cool off in – old villages and lush plantations, expect a colourful journey.
Climb through the boulder-strewn terrain to Mibam village via a two to three-hour trek. Those who want to check out the waterfall need to be confident swimmers – it's about 100 metres through the pools to reach the falls.
Advanced climbers then have the option to ascend the waterfall rocks. It's no easy feat and requires ropes, safety gear, helmets and life jackets, but offers trekkers the chance to see the wadi from quite a different perspective.
Musandam mountains
Just a two-hour drive from Dubai, Musandam is Oman's closest hiking spot for UAE residents. The local routes here are often patrolled by police and military forces, so going with a local guide is a must.
Smugglers Bay (Intermediate level)
This great short hike will help you find your scrambling feet. With a steep 30-degree rocky incline in places, it rolls across 400 metres of elevation, giving hikers spectacular views across beautiful blue waters that stretch all the way to Fujairah. On a clear day, you can see as far as Iran. The 4.5km trek typically takes 90 minutes to two hours, although experts have managed it in 30 minutes. At the top are the remains of a 17th-century Portuguese village and a graveyard that's still in use. Going back down is less steep, but you'll still be in for a good workout.
Wadi Dibba (All levels)
This varied hike caters to all levels, depending on how far you choose to go. Trekking along the ancient riverbed, you'll pass farms and meandering goats – some of them perched in very precarious places. A mosque and ablution facilities can also be found; they're used by the farmers that live in the simple rock huts along the route. With elements of scrambling and undulating terrain, the hike can extend to 28km one way. But with the entry and exit point the same, you can finish wherever you like and return via the road. The more adventurous can trek to the end of the riverbed, where an advanced climb up a steep rock face awaits. Tackle this to ascend 1,200 metres in elevation over a climb of only 3.3km.
Secret Staircase (All levels, moderate fitness required)
This winding set of steps was built 30 years ago by Pakistani migrants tending local farms. Mohammed, who helped build them, is on hand to greet hikers when they reach the plateau at the end of the 45-metre climb. The ascent is steep and takes about two and a half hours, traversing a distance of only 1.5km.
Though the surrounding land is barren, the terraces are still used to grow wheat and barley in the winter. You'll also spot herbs such as eucalyptus and zaatar (thyme) and deep-rooted trees including acacia, latab and cedar.
Wadi Shab, Al Sharqiyah (All levels)
Because of its proximity to Muscat, the beauty of the canyon-water trail and its relative ease for hikers, Wadi Shab is one of the most popular wadis for trekkers. A stretch of water cuts the trail off and adventurers can swim across or simply pay the ferrymen Dh10 to travel two minutes by boat. The trail itself is dotted with farms fed by falaj irrigation systems, and it winds through rocks towards a large body of water. A path runs up and around the canyon, and it's a popular picnic and swimming spot.
Wadi Shab is one of the most popular wadis for trekkers.
After about an hour and a half of hiking through relatively easy terrain, visitors reach another pool area. From here, things become slightly more challenging. A 15-minute climb and scramble leads to the secret keyhole – a three-metre gap between the water and rock. This leads to a cavern where, depending on the season, a waterfall with a rope may await. Thrill-seekers can jump into the pool from a ledge eight metres above it, using the rope to climb back out.
Safety note: there is no place to stand in the cavern and little to hold on to in the water; if you aren't a strong swimmer, wear a life jacket.
Top tip? Be sure to visit the Bimmah Sinkhole. Inside Hawwiyat Najm Park, this large limestone depression is not too far from Wadi Shab. It is not a hiking spot in itself, but the park makes for a good stop. It is filled with saltwater and tiny feeder fish, and a stairwell leads to a beautiful swimming spot.
Wadi Damm (Intermediate/advanced level)
Oman is the curious explorer's haven with an abundance of hiking and canyoning routes. An hour north-east of Ibri, Wadi Damm has stunning limestone rock formations and there is water all year round. The wadi is easily accessible by driving off-road to the first dam. From there, walk along the falaj system to where the pools and rock formations begin.
About 20 minutes in is a beach from which it is easy to climb the rocks and jump into the pool. Further on, a network of canyon walls and water obstacles await, but the trek downstream is recommended.
For those seeking something less adventurous, it's possible to walk the boulders along the water's edge. There is a loop hike in which you can ascend a canyon next to the entrance. On the descent are bat caves and others with stacked-rock shelters.
Snake Gorge Canyon, Ad Dakhiliya (Intermediate/advanced level)
North of Nizwa, Snake Canyon Snake Gorge Canyon (Wadi Bani Awf) is one of the best places for outdoor adventurers in Oman.
One of the top outdoor adventures in Oman, Snake Gorge Canyon (or Wadi Bani Awf) is a must-do for thrill-seekers. It is north of Nizwa, so getting here involves an off-road trail that skirts the scenery of the surrounding mountains and quiet villages. The grade of the road becomes rather steep and narrow, so the drive takes about two hours. At the bottom, a Nepalese-style inn called Bait Bimah awaits travellers and you can book to stay overnight if you want an early start on the canyoning.
The canyon itself has two entrances and one exit: the short route and the long one. A responsible guide is recommended for the trail, as some parts of Big Snake Canyon require about 40 metres of abseiling. Little Snake Gorge is more manageable, with only a few areas in which rope navigation is needed, but it is still tricky for the unfamiliar.
This three to four-hour trail requires careful problem-solving, with various obstacles to climb, slide, jump and swim through. The exit opens into a larger valley to which experienced climbers travel from around the world. The trail is impressive but can also be dangerous and requires experience and equipment, including helmets, life jackets and climbing rope/ harnesses. It's also remote, so timely access to emergency services can be difficult, which means trusted guides, adequate fitness levels and a good level of preparation are musts.
Keep an eye on the weather – the canyon's walls are high and narrow and you don't want to be caught in a downpour. Hikers have lost their lives here because of flash flooding.
tag: oman , travel , tourism , hiking , trekking , omanday , mountains , adventurer
Share This Post
YOU MAY ALSO LIKE
COMMENTS