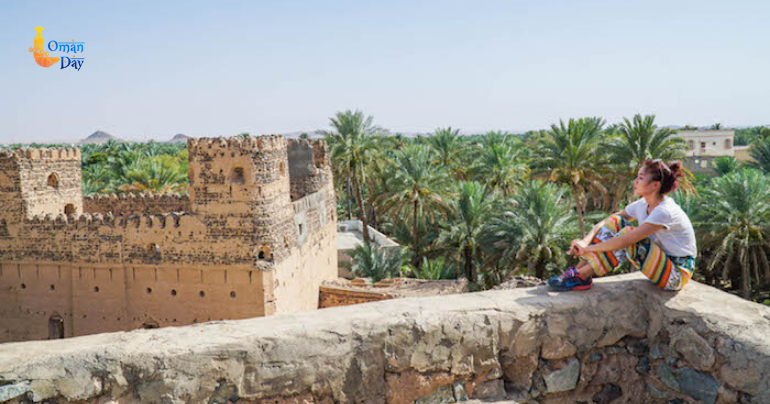 What's Oman Like for Solo Female Travelers ?
When I first decided to visit Oman, I had no idea what to expect. I knew that solo female travelers occasionally struggle to visit countries in the Middle East, so I assumed it could be a tricky experience.
Fortunately, the opposite was true. I found Oman to be a wonderful country, and extremely safe for solo travelers. I experienced no harassment from the locals, I never once felt like I was in any danger, and I enjoyed the fact that I was one of the few tourists choosing to visit this welcoming country.
Here are my top tips for solo female travelers in Oman:
Dress Conservatively
Oman is an Islamic country, so it won't come as any surprise that you'll be expecting to cover up while you're traveling around the country.
While the Omani people are extremely friendly, kind, and welcoming people, they're also predominantly `Muslim, so you should take care to cover up in order to be respectful. In Oman, you'll want to be covering your shoulders and knees at a bare minimum, and if possible, attempt to cover everything from your neck to your wrists to your ankles.
Given that Oman is such a hot country -- it didn't drop below 45 degrees Celsius while I was there -- you'll want to pack loose, floaty items that are white and made of cotton, in order to stay cool. Walking is most likely not going to be something you'll want to do in the heat, so plan to take taxis around the cities to ensure you don't overheat.
On beaches, you'll be okay to wear a swimming costume in the ocean (rather than a bikini) but wrap a sarong around you when you're not in the water. If you're going to be staying in one of the resorts that has a private beach, you'll be okay to wear whatever you like, so feel free to bring your bikini with you.
Expect to Feel Lonely
It's rare to find tourists in Oman, let alone solo women, so you'll most likely struggle to make friends while you're in the country. Hostels don't exist in the country, so if you're traveling on a budget, you'll be staying in a budget guesthouse for businessmen, and if you're more of a luxury traveler, you'll be opting for a resort filled with families.
Public Transport Is Hard to Find and Use
Public transport in Oman is tough to find, so in order to minimize hassle, you'll want to opt for either renting a car or catching a cab.
There are a few options for local buses in Muscat, but there are rules for women in place. You'll only be able to sit next to another woman on the bus. If there are only men in the bus and nowhere for you to sit, it's expected that you'll stand next to a seat until a man moves. Yes, that is ridiculous.
To get from city to city, you'll struggle to find buses, so hiring a driver is a good way to go (ask your hotel for a trusted recommendation), or renting a car is a great idea if you're comfortable with driving overseas. On top of that, the main attractions are not in the towns and cities in Oman, so you'll want to hire a driver, take a tour, or drive yourself to any of the beautiful landscapes you're looking forward to checking out.
It's not incredibly safe to hitchhike as a woman in the country, so unless you have lots of experience and are comfortable in vulnerable situations, aim to avoid this method of transportation in Oman.
Tours Are Mostly Private
Oman is a wonderful country and, if you don't have your own transport, you'll want to make use of tours in order to visit some of the country's main draws -- whether it's camping in the desert, visiting the historic forts, hanging out with giant sea turtles, exploring enormous canyons, or going SCUBA diving in the brilliant turquoise waters.
As a solo woman traveler, I love going on group tours, as it gives me to chance to meet other people while reducing any potentially awkward moments with just me and a single tour guide.
In Oman, however, it was impossible to find group tours. The only tours I could find were private tours. If you decide to explore the country as a solo traveler, take note that it will most likely just be you with the driver for the entire trip. I didn't feel comfortable with this (read more on this below), so decided to explore alone and on foot in Muscat only.
The main reason why I chose to avoid taking tours in Oman was the proliferation of fake reviews on online review sites -- I simply couldn't find a tour company with genuinely positive reviews, which gave me pause when it came to signing up for one.
For example, on TripAdvisor, every single tour company had reviews that had been left by people who have no reviewing history on the site. Anybody can leave a review on TripAdvisor so if you look at the reviewer profile and see the only review they've left is for this one tour company, it's likely the review is fake. In Oman, I found that every single tour company only had reviews from people who had signed up just to review that company, which led me to believe that none of them were genuine.
Where to Stay in Muscat as a Solo Woman
There's an odd mix of accommodation options in Muscat, so it can be complicated trying to find somewhere that suits for a solo woman, especially if you're a student on a limited budget. You're either going to end up in a very expensive five-star resort on the waterfront, or in a very budget guesthouse outside of the central parts of the city.
One of the main draws of Muscat is Muttrah, but I couldn't find a single budget accommodation option with good reviews for me to stay in. Instead, I opted to stay in nearby Ruwi -- the business district of Muscat. I was then perfectly located to explore the hotspots of Muscat, including Muttrah. I can wholeheartedly recommend staying at Ruwi Hotel.
Travel in Oman as a solo female is a little trickier than doing so in a Western country, but it's also much more rewarding. You'll get to experience a country that sees hardly any tourists, meet incredibly friendly locals, and view some spectacular scenery.
tag: solo , female , travellers , alone , oman , omanday
Share This Post
YOU MAY ALSO LIKE
COMMENTS