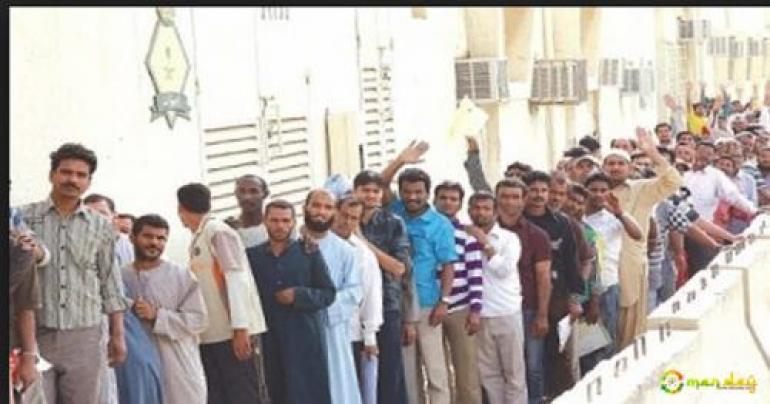 Role of Indian Expats in Saudi Economy is Commendable – Saudi Government
It is common knowledge that the Kingdom of Saudi Arabia is home to one of the largest expatriate workforces in the world. Most these expatriates hail from Asian countries predominantly of the Asian sub-continent.
The Kingdom of Saudi Arabia has stated that they value the contributions which have been made by the 2.73 million Indian expatriates who are currently employed in the Kingdom of Saudi Arabia.
Proof of this appreciation can be seen at the Jeddah airport which is also the third largest in the Kingdom where greetings and salutations are written in Hindi, amongst other languages.
A senior official in the Government of Saudi Arabia has stated that the Saudi Government places high importance on the relations between the Kingdom and India.
The good relations between the Kingdom and India will be beneficial to the people belonging to the two countries. Jeddah airport is now donned with signs of Swagat, Namaste, and Dhanyawad which is a clear indication of the commitment and priority given to the ties between the Kingdom of Saudi Arabia and India.
The importance which has been given to the Hindi language at the King Abdul Aziz International Airport is second only to the English and Arabic Language.
The Indian language greetings and salutations are flashed on electronic message boards which have been placed inside the Airport and at the parking fee counters.
The Expatriates from India are employed in various sectors and industries in the Saudi Economy. These range from the high-end scientific research jobs to the construction sector, all of which are greatly contributing to the Economy of Saudi Arabia.
The Saudi Government official added that the Indian expatriates are playing a pivotal role in the strengthening of the bilateral relations between Saudi Arabia and India.
He also stated that there is a common misconception that most Indian expatriates coming to the Kingdom to work are Laborers; whereas around 500,000 Indians are working high-end professional jobs within the Kingdom of Saudi Arabia.
The official added that the bilateral trade between India and Saudi Arabia has grown from $ 25 billion in 2010 – 11t o $ 48 billion in 2013 – 14.
He added that the multilevel relations with India and the bilateral ties on the business front are expanding steadily and are being strengthened through cooperation and interaction from both sides.
In accordance with the Embassy of India located in Riyadh, Saudi Arabia, the Kingdom is the 4th biggest trade partner with India and a vital source of energy.
Currently, India is importing around 20 percent of the crude oil required by them through Saudi Arabia, which accounts for the fall in the bilateral trade amount for the 2014-2015 year.
In 2014 to the 2015 year, the trade amounted to $ 39.4 billion which was a drop of 18.96 percent since last year. This is mainly due to the falling prices of oil since 2014.
tag: international-news , business
Share This Post
YOU MAY ALSO LIKE
COMMENTS