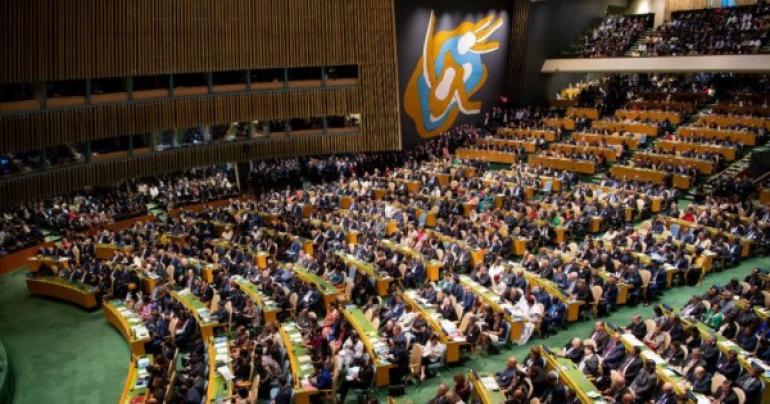 Roundup of everything that happened on 2nd day at 74th UNGA
World leaders have gathered in New York City for the 74th session of the United Nations General Assembly (UNGA).

The UNGA comes just days after millions of young activists and their supporters marched in thousands of cities worldwide to demand greater action on climate change.

The general debate is taking place from September 24 to September 30, with dozens of world leaders scheduled to address the General Assembly.

Here are all the updates from 24 September:

Britain's PM dodges Brexit in UNGA speech

Britain's Prime Minister Boris Johnson barely mentioned Brexit in his speech to the UNGA, instead focussing on the promise and dangers of technology.

Johnson said he was "profoundly optimistic" about technology's future - if humanity was able to find "the right balance between freedom and control."

His only comment on Brexit was wrapped up in Greek mythology and the story of Prometheus, who steals fire in defiance of the gods condemning him to eternal torture - having his liver pecked out by an eagle day after day.

Japan's PM wants to meet North Korea's Kim

Japan's Prime Minister Shinzo Abe told UNGA he was "determined to meet Kim Jong Un myself face-to-face, without attaching any conditions" in an effort to normalise relations and settle "the unfortunate past."

Japan and North Korea are uneasy neighbours.

Japan colonised Korea in the years before war split the peninsular into two nations, and numerous issues from Japan's close relationship to the United States to the abductions of Japanese citizens over many years have kept relations tense.

Abe said he also supported US President Donald Trump's approach to the North "by which two leaders talk candidly with each other and try to talk about the issues at hand and see a bright future ahead."

Leaders pay tribute to Gandhi on 150th anniversary of birth

World leaders paided tribute to Mahatma Gandhi on the 150th anniversary of his birth at a United Nations event on Tuesday, and praised his lasting legacy.

Indian Prime Minister Narendra Modi spoke of Gandhi's ability to bring change through non-violent means and affect the lives of billions of people from all over the world.

"Gandhiji was an Indian, but he didn't belong only to India," Modi said, using a respectful form of address.

UN Secretary-General Antonio Guterres said Gandhi's work should "inspire us in our efforts to leave no one behind" while New Zealand Prime Minister Jacinda Ardern spoke of the relevance of Gandhi's legacy of non-violent political protest for today's society.

"Gandhi's legacy is as relevant today as it ever was," she said. "It calls on us to reject bigotry and embrace kindness and truth. It calls on us to strive for equality no matter how difficult and entrenched systems are and it demands that we recognise the lasting value of peace."

US leads China condemnation over 'horrific' repression in Xinjiang

The United States led more than 30 countries in condemning what it called China's "horrific campaign of repression" against Muslims in the western region of Xinjiang, in an event on the sidelines of the UNGA that was denounced by the government in Beijing.

Calling for UN access to the area, where the world body has said one million Uighurs are being held in detention camps that China calls vocational skills training centres, Deputy Secretary of State John Sullivan said the United Nations and its member states had "a singular responsibility to speak up when survivor after survivor recounts the horrors of state repression."

China criticised the US for organising the event, while Foreign Minister Wang Yi said the measures taken in Xinjiang were necessary to prevent 'extremism and terrorism'.

Macron says conditions in place for Trump-Rouhani talks

French President Emmanuel Macron said he believed the conditions for the leaders of the United States and Iran to meet were now in place, but it was their decision on whether to move forward.

"I believe that the conditions in this context for a rapid return to negotiations have been created," Macron told reporters after meeting Iranian President Hassan Rouhani and President Donald Trump.

"There is a common intent to progress and to not just find the terms of a de-escalation, but build a long-term accord," he said. "But it depends on the will of both sides."

Macron meets Iran's Rouhani after seeing Trump

Macron met Iranian counterpart Hassan Rouhani shortly after holding talks with US President Donald Trump, a French presidential official said.

Macron, who had already met Rouhani for 90 minutes on Monday night, is trying to defuse tensions between Washington and Tehran in the hope of opening a negotiation between the two sides as well as regional and international powers.

Pakistan mediating with Iran after Trump request, PM Khan says

Pakistan's Prime Minister Imran Khan said he spoke to Iranian President Hassan Rouhani on Monday after US President Donald Trump had asked him to help defuse tensions with Iran.

"I can't say anything right now more than this, except that we are trying and mediating," Khan told reporters on the sidelines of the UN meet.

Macron urges Iran, US to pursue negotiations

French President Emmanuel Macron said the "time has come" amid heightened tensions in the Middle East for the United States and Iran to hold talks, warning the September 14 attacks on Saudi Arabian oil facilities had "changed the situation" in the region.

"Today we have a risk of serious conflict based on a miscalculation or a disproportionate response," Macron said. "Peace is at the mercy of an incident ... and the consequences [of conflict] for the region would be very serious; too serious for us to live on the edge of a cliff."

"Now more than ever is the time for negotiations among Iran, the United States, the signatories of the JCPOA and regional powers, centered on the region's security and stability," Macron added, referring to the 2015 nuclear deal with Iran.

"It takes courage to build peace," he said, adding that he would continue his recent efforts to bring all sides to the negotiating table.

"This starts from ... your politicians but it goes also to a family evening, to dinner with friends, with family. If they have hate speech you can never accept it."

Bettel, 46, who was re-elected for a second term in 2018, is one of three openly gay and lesbian leaders in the world and married his partner in 2015.

UK's Johnson calls on Iran to release jailed nationals

British Prime Minister Boris Johnson called for the immediate release of Nazanin Zaghari-Ratcliffe and other dual nationals imprisoned in Iran during a meeting with Iran's President Hassan Rouhani in New York on Tuesday, a Downing Street spokesperson said in a statement.

Johnson also raised Britain's "deep concern about Iran's destabilising activity in the region, including the attacks on the Aramco oil facilities, and insisted this must stop," the spokesperson said.

The prime minister stressed support for the Iran nuclear deal and the need for dialogue, "including on a comprehensive successor deal."

It was a bit like Brexit, Johnson said "if some of our members of Parliament have their way".

Johnson has had to cut short his visit to the UN after Britain's highest court ruled his decision to prorogue parliament for five weeks in the run-up to the October 31 Brexit deadline was unlawful. MPs will return to the house on Tuesday.

Merkel wants US-Iran talks but can't see sanctions lifted first

German Chancellor Angela Merkel would welcome talks between the United States and Iran, but after speaking to the presidents of both countries, said it was unrealistic to expect Washington to lift sanctions on the Islamic Republic first.

"I would welcome it if it came to talks between the US and Iran but it won't work that all sanctions are first taken off the table and then there are talks. I think that is not realistic," Merkel said on the sidelines of the UN General Assembly.

Earlier, Iranian President Hassan Rouhani had said he was open to discuss small changes, additions or amendments to a 2015 nuclear deal between Iran and six major powers if the US lifted sanctions.

Seoul calls for 'peace zone' between Koreas

South Korea's president called for economic engagement with North Korea in return for progress on nuclear disarmament and urged the establishment of an "international peace zone" on the divided peninsula.

Moon Jae-in said his nation "will guarantee the security of North Korea" and expressed hope "North Korea will do the same for South Korea".

He added that mutual security assurances would allow faster nuclear disarmament on the Korean Peninsula, which is still technically in a state of war, and that UN offices and other international groups could be stationed at the proposed "peace zone".

Venezuela defends Cuba ties after Trump speech

Venezuelan Foreign Minister Jorge Arreaza said his country would continue working with Cuba, after US President Donald Trump earlier called Venezuelan President Nicolas Maduro a "Cuban puppet" in his speech.

Arreaza called Trump a "puppet of imperialism and capitalism" and said other countries in the region that recognise Venezuelan opposition leader Juan Guaido were puppets of the United States.

Turkey, Nigeria condemn Islamophobia

Presidents of Turkey and Nigeria have condemned Islamophobia in their addresses.

Turkish leader Recep Tayyip Erdogan said hate speech was a disease turning into a "raging insanity".

Meanwhile, Muhammadu Buhari highlighted the growing threat of hatred towards Muslims, citing the Christchurch mosque attacks earlier this year.

Erdogan issues reminder over Syria

Turkish President Recep Tayyip Erdogan reminded world leaders of the humanitarian cost of Syria's civil war.

He called for an end to the nearly nine-year-old civil war and said that many of the more than three million asylum seekers residing in Turkey are Syrian. The number of Syrian children born in Turkey has reached half-a-million.

Erdogan also said people must "never forget" the world's "baby Alans" as he held up the photo of Alan Kurdi, the three-year-old boy who died in 2015 while trying to reach Turkey's shores. The image of the child's lifeless body prompted outrage and drew the world's attention to the plight of refugees.

Erdogan: Nuclear power should be free for all or banned

Turkish President Recep Tayyip Erdogan told the UN General Assembly nuclear power should either be free for all states or banned completely.

He also warned that the "inequality" between states which have nuclear power and those which do not undermines global balances.

"The position of nuclear power should either be forbidden for all or permissible for everyone," Erdogan said.

El-Sisi: Libya needs to be saved from 'chaos'

Egyptian President Abdel Fattah el-Sisi said a concerted effort was needed to stop armed groups taking control of Libya and to prevent external actors from intervening there.

El-Sisi said in his UNGA speech that the oil-producing North African state needed to be saved from "the ensuing chaos by militias and prevent the intervention of external actors in Libya's internal affairs".

Egypt is a supporter of Libyan eastern commander Khalifa Haftar, whose Libyan National Army (LNA) has been trying to take the capital, Tripoli, from forces allied with the internationally-recognised Government of National Accord (GNA).

Trump slams Iran's 'bloodlust'

US President Donald Trump called on nations around the world to tighten the economic noose around Iran, saying no country should support Tehran's "bloodlust".

"One of the greatest security threats facing peace-loving nations today is the repressive regime in Iran," he said.

"The regime's record of death and destruction is well known to us all. Not only is Iran the world's number one state sponsor of terrorism, but Iran's leaders are fuelling the tragic wars in both Syria and Yemen, and at the same time the regime is squandering the nation's wealth and future in a fanatical quest for nuclear weapons."

Trump attacks policies of 'open border activists' as evil

Policies pushed by "open border activists" were hurting the very people they supposedly aimed to help, US President Donald Trump told the UN General Assembly as he called migration one of the world's must crucial challenges.

"Today I have a message for those open border activists who cloak themselves in the rhetoric of social justice: your policies are not just. Your policies are cruel and evil," Trump said.

"You are empowering criminal organisations that prey on innocent men, women and children. You put your own false sense of virtue before the lives, wellbeing and countless innocent people," he added. "When you undermine border security, you are undermining human rights and human dignity."

China's trade practices unfair, Trump says

US President Donald Trump sharply criticised China's trade practices, going over a litany of what he deemed unfair policies.

"It has embraced an economic model dependent on massive market barriers, heavy state subsidies, currency manipulation ... forced technology transfers and the theft of intellectual property, and also trade secrets on a grand scale," Trump said.

"As far as America is concerned, those days are over."

Trump: Future belongs to 'patriots' not 'globalists'

US President Donald Trump told the UN General Assembly the future belonged to "patriots" and not "globalists".

"Wise leaders always put the good of their own people and their own country first," he said.

"The future belongs to sovereign and independent nations who protect their citizens, respect their neighbours and honour the differences that make each country special and unique."

'Fallacy' to say Amazon is the heritage of humankind: Bolsonaro

Brazil's President Jair Bolsonaro, who has come under heavy international criticism for wildfires that are raging in the Amazon, said that the rainforest is his country's sovereign territory.

"It is a fallacy to say that the Amazon is the heritage of humankind, and a misconception confirmed by scientists to say that our Amazon forests are the lungs of the world," Bolsonaro told the UN General Assembly.

"The Amazon is not being devastated, nor is it being consumed by fire, as the media says," he added.

Satellite data from the Brazilian Space Agency has shown a sharp increase in deforestation and forest fires in the past year.

Trump to say US does not seek conflict

US President Donald Trump will say the United States does not seek conflict with other countries but will defend its interests, according to excerpts from his address, scheduled to be delivered later on Tuesday.

"The US does not seek conflict with any other nation. We desire peace, cooperation, and mutual gain with all. But I will never fail to defend America's interests," Trump will say, according to excerpts from his speech provided to the Reuters news agency.

UN chief warns of world splitting in two

There is a looming risk of the world splitting in two with the two largest economies, the United States and China, creating rival internets, currencies, financial rules "and their own zero-sum geopolitical and military strategies," UN Secretary-General Antonio Guterres cautioned.

Guterres said in his "state of the world address" that the risk "may not yet be large, but it is real".

Guterres opens UNGA debate

UN Secretary-General Antonio Guterres opened the first day of debate at UNGA, warning the world was in a state of "disquiet".

He added that "we must do everything possible to avert the Great Fracture" and maintain a universal economy in a multipolar world, before also warning of an impending climate crisis, spreading insecurity and rising inequality.

"A great many people fear getting trampled, thwarted or left behind," Guterres said.

"Machines take their jobs, traffickers take their dignity, demagogues take their rights, warlords take their lives, fossil fuels take their futures and yet people believe in the spirits and ideas that bring us to this hall," he added. "They believe in the United Nations ... and we the leaders must deliver for we the peoples."
tag: internationalnews , business
Share This Post
YOU MAY ALSO LIKE
COMMENTS