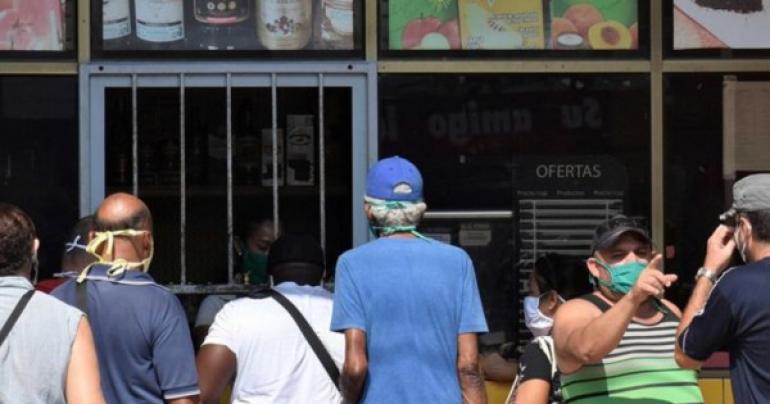 COVID-19 cases spreading rapidly in Latin America
The COVID-19 cases are still on the rise in Latin America, with Peru's tally close to 100,000, as countries in the region advocated for greater global cooperation to stamp out the pandemic.

As of Monday Peru has reported a total of 94,933 confirmed COVID-19 cases and 2,789 deaths from the disease, after 141 more patients died in the past 24 hours.

The Peruvian government announced that an 85-member group of Cuban doctors and healthcare workers were set to arrive this week to help the nation fight the outbreak, especially in outlying regions.

The Cuban government reiterated its commitment to working with the World Health Organization (WHO) and the international community to combat the pandemic.
"COVID-19 is a global challenge that does not recognize borders, ideologies or levels of development. It has put health systems around the world to the test, as well as our capacity to respond to epidemics," Cuban Health Minister Jose Angel Portal told the 73rd World Health Assembly, the WHO's decision-making body, as it convened online on Monday.

"No country can tackle this pandemic alone, it requires a global response based on unity, solidarity and cooperation," said Portal.

At the assembly, Argentina joined Cuba in backing the WHO and urging more joint cooperation.

Argentine Health Minister Gines Gonzalez Garcia expressed his country's "interest in advancing and supporting all regional and global initiatives aimed at strengthening actions to combat the pandemic, and all actions that allow access to the results of research, vaccines and medical products."

Brazil, the country worst hit by the virus in the region, is fighting not only the outbreak but an increase in fake news and misinformation about the pandemic online by imposing stiff fines on violators.

So far, the Federal District and 21 of the country's 26 states have imposed or are in the process of imposing fines ranging from 224 reais ($40) to 25,000 reais ($4,385).

In Rio Grande do Norte state, the government has also announced the imposition of fines of up to 50,000 reais ($8,770) on news outlets or other companies that spread fake news, such as unverified treatments and cures.

Meanwhile, Mexican scientists at the state-funded National Polytechnic Institute (IPN) said that they are working on developing antibodies to treat COVID-19 patients or use as a vaccine, but it could take a year.

"Antibodies can be created from natural and/or artificial resources," Juan Carlos Almagro, head of the IPN's antibody research unit, said in a statement.
tag: latinamerica , covid19
Share This Post
YOU MAY ALSO LIKE
COMMENTS