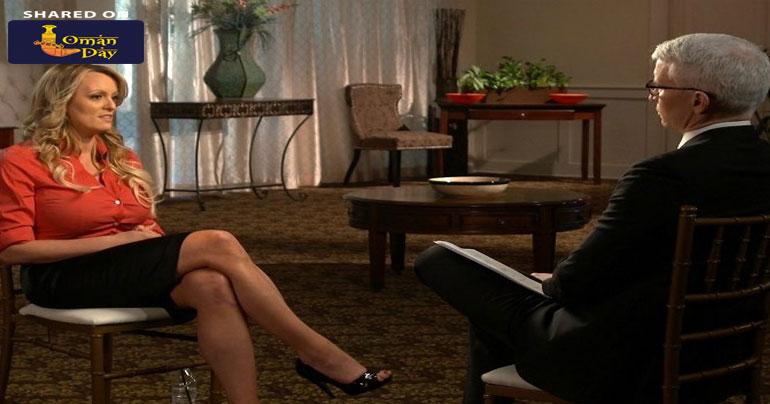 'Leave Trump alone': Porn star Stormy Daniels claims she was threatened to keep quiet over Donald Trump affair
Stormy Daniels, the porn actress who claimed to have had an affair with US President Donald Trump in the past, on Sunday revealed that in 2011, she was threatened to keep quiet over her alleged fling with the President.
The revelation was made during a much-anticipated primetime TV interview that was aired on Sunday in which she gave more details about the alleged affair.
Daniels is trying to get out of a non-disclosure agreement that she signed just 11 days before the 2016 presidential election, in which Trump managed to pull a surprise victory. She was paid $130,000 for staying mum about her interactions with Trump, news agency AFP reported.
Speaking to Anderson Cooper on CBS' '60 Minutes', Daniels stated that Trump had not asked her to keep her encounter with him - that took place in 2006 - a secret, though she was threatened by a man in a parking lot in Las Vegas in 2011, after she decided to sell her story to a tabloid for $15,000.
Describing the incident, Daniels said, "I was in a parking lot, going to a fitness class with my infant daughter. Taking, you know, the seats facing backwards in the back seat, diaper bag, you know, gettin' all the stuff out." She added, "And a guy walked up on me and said to me, 'Leave Trump alone. Forget the story.' And then he leaned around and looked at my daughter and said, 'That's a beautiful little girl. It'd be a shame if something happened to her mom,'"AFP reported.
When Cooper questioned if she took it as a "direct threat", Daniels replied, "Absolutely" and added that the parking lot encounter had left her "rattled". "I was rattled, I remember going into the workout class and my hands were shaking so much I was afraid I was gonna drop her," she said of her daughter, according to AFP.
'Hardly mentioned Melania'
Daniels recounted that she first met Trump at a celebrity golf tournament in Lake Tahoe in July 2006, following which he invited her to his hotel suite, where they had sex for the first and last time. She said that Trump started the conversation "just talking about himself" and asked her if she had seen his picture on the cover of a magazine. She told him: "Someone should take that magazine and spank you with it." She took the magazine and told Trump to drop his pants, which he did -- with underwear still on -- "and I just gave him a couple swats," said Daniels.
After that, the real estate mogul was a "completely different person", Daniels said, stating that he stopped boasting about himself after that and even "complimented" her saying that she "reminded him of his daughter, Ivanka". 'He said, 'You're smart, beautiful and a woman to be reckoned with,'" she recalled.
Daniels, whose real name is Stephanie Clifford, said that when she brought up the topic of Melania, who he had married just two years ago and had an infant son with her, Trump brushed the discussion aside, saying "Oh yeah, yeah, you know, don't worry about that, we have separate rooms."
She said she and Trump had unprotected sex, despite the fact that she was not attracted to a man who was over 30 years her senior. But "I didn't say no. I'm not a victim," Daniels said.
She stayed in contact with Trump after the encounter because the tycoon said he would try to get her on "The Apprentice," the reality TV show he hosted at the time. "I thought of it as a business deal," she said, but it did not pan out.
Interestingly, Donald Trump and his wife Melania were 1,000 miles apart when the interview was broadcasted. Trump arrived back at the White House shortly before the interview aired on Sunday, while Melania remained in Florida for spring break.
While Trump has been uncharacteristically quiet about the alleged fling, the White House has denied any sexual encounter between him and Daniels.
tag: international-news , legal
Share This Post
YOU MAY ALSO LIKE
COMMENTS