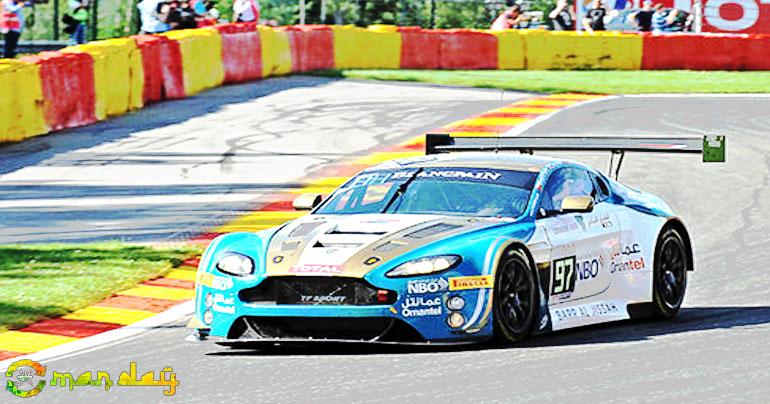 Ahmad To Chase Glory In Blancpain Silver Cup
A new season, a new class, a new mix of drivers and a new challenge. But the goal remains the same for Oman's ace motorsports star Ahmad al Harthy – give the best and fly the sultanate's flag high in the world of endurance motor racing.
"It is going to be an interesting and exciting season ahead as I fight out in Silver Cup, a new category, at one of world's toughest endurance racing series - Blancpain Endurance Cup," said Ahmad on Monday at the launch ceremony of his 2018 racing programme at Shangri-La's Barr al Jissah.
Ahmad's Oman Racing squad will comprise of Euan McKay and Charlie Eastwood as the team will make a bid for the Endurance Cup in the Silver category.
The team had competed in conjunction with TF Sport last year and claimed the Pro-Am class title. The trio will race in Aston Martin V12 GT3 this year with Ahmad competing in his sixth endurance season.
Ahmad, who has been promoted into the new Silver Cup class, said, "We are going to begin the new season on the back of last year's success. To have won the Pro-Am title was special as it coincided with my tenth year of racing.
"The Silver Cup is definitely a challenging category with a mix of highly-talented young drivers in fray. It is an unchartered territory for me but I hope with my experience over the past five years, we can do well with our finishes."
"It is more of a fine-tuning what we have been doing over the past few years. Of course, as it is a new category, we have to be realistic and we may have a better idea only after the testing sessions and the initial rounds are over," he said.
McKay recently competed alongside Ahmad in the Gulf 12 Hours in Abu Dhabi where they raced at the front of the field before finishing second in class.
Eastwood, meanwhile, has been confirmed in the team's FIA World Endurance Championship challenge alongside Salih Yoluc and Euan Hankey and completes the exciting new-look team.
Ahmad said, "It was important for me to build on the success of last year and to remain in the series and as a Silver driver this year, it's a small but exciting step forward with Oman Racing TF Sport once again."
The 2018 season of the Blancpain GT Series will see a number of changes with the maximum number of cars in a Pro line-up limited to 26.
In order for each driver to be guaranteed to play a role in qualifying for the Blancpain GT Series Endurance Cup races, the starting grid will be determined by the average of the times of all drivers sharing a car.
The Silver Cup will feature an all-Silver driver line-ups and a fourth driver will be added for the 24Hours Spa.
On Monday, Ahmad also unveiled his sponsors line-up. The Ministry of Sports Affairs, National Bank of Oman, Oman Air, Omantel, Barr al Jissah and Amouage will once again back the Omani star for the season.
Fahad al Raisi, director-general of sports development at the sports ministry, said, "We are very proud to offer key support to Ahmad and Oman Racing, especially after such an amazing season last year.
"Our long-standing partnership has been very beneficial for all involved and we're extremely happy to extend our support as Ahmad again flies the flag for Oman."
The 2018 season of the Blancpain GT Series starts with the official test days at Circuit Paul Ricard in France on March 13-14. The iconic circuit of Monza in Italy will host the first race meeting of the new season, on April 21-22.
Blancpain Endurance Cup Series calendar: April 21-22: Monza, Italy; May 19-20: Silverstone, UK; June 1-2: Paul Ricard, France; July 26-29: Spa-Francorchamps,
Belgium [Total 24 Hours of Spa]; September 29-30: Barcelona, Spain.
tag: internationalnews , sports
Share This Post
YOU MAY ALSO LIKE
COMMENTS