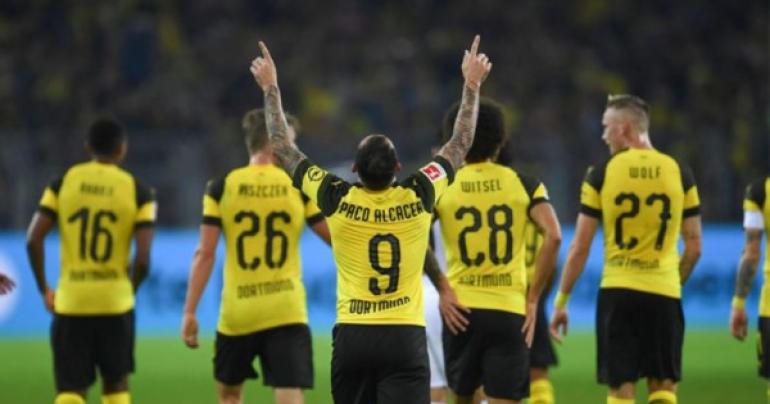 Dortmund preparing for long-distance title race
Expectations couldn't be higher when it comes to Borussia Dortmund and the club's goal to win the 2019-20 Bundesliga title. Fans are in a euphoric mood; pundits praise the Blacks and Yellows' transfers strategy and CEO Hans-Joachim Watzke is admitting that the side is "stronger than last year."

But despite a satisfying 5-1 win over FC Augsburg in the season opener, doubts remain about the side's mental state. "We need stability and consistency. That will be the key to success," Borussia sporting director Sebastian Kehl said ahead of the side's away game against newly promoted FC Cologne this Friday evening.

Currently, the club's leaders are trying to ease the tensions around the squad of coach Lucien Favre. "We have to take it easy; this was the first game, nothing more," managing director Michael Zorc commented, refusing to call the entertaining performance at home a statement.

Neither Kehl nor Zorc have forgotten last season's outcome with their side gambling away a nine-point lead from a brilliant season start in a weak second half.
"We have a realistic chance to win the title as we have increased the squad's quality," Watzke said, adding that it remains a risk to talk about the title "as you can end up with a bloody nose if it doesn't work."

Watzke compared rival Bayern Munich to an "eight-thousander;" one doesn't get over quickly as there is a gigantic wall in front of you.

The 60-year-old said Dortmund still feels in the role of the challenger but is getting closer and closer. The club has reached the next level but still needs to prove to have enough energy for the long-distance race this year.

Watzke praised Bayern's Robert Lewandowski as the world best spearhead and called Bayern goalkeeper Manuel Neuer one of the best. "There is no fear when we think about the competition, but there is a lot of respect," he underlined, adding RB Leipzig is going to play a vital role this season. "Don't forget about them."

Bayern's latest deal signing Brazilian star Coutinho on loan from Barcelona might have increased Borussia's admiration. "It is a great sign for the Bundesliga to have such a star playing in Germany. It causes additional attention," he said.

Watzke and his fellow officials in the first place are trying to control the growing emotions around coach Favre and his team.

The Swiss manager is only reluctantly talking about the title. He might be pragmatic, and cautious, but he is behind the club's goal with all of his heart, Watzke emphasized. He confirmed that everyone in the club is comfortable with the expressed ambitions.

Favre though will have to handle a fully equipped squad improved by new faces such as Thorgan Hazard (Moenchengladbach), the German internationals Julian Brandt (Leverkusen), Nico Schulz (TSG Hoffenheim) and Mats Hummels (Bayern).

Hummels' performance against Augsburg gave cause for unbridled optimism as the 30-year-old turned into the team's undisputed leader. Winger Hazard said the team has already found its leader in the central defender. "With him, we can do everything," the brother of Real Madrid star Eden Hazard commented.

Optimism it seems couldn't be more significant. But not only in Dortmund "fans" keep their fingers crossed for the Blacks and Yellows. "Time hasn't been better to give Bayern a heavy push," former Dortmund coach and current FC Liverpool coach Juergen Klopp said. Everything else would be boring, the 2019 Champions League winner added with a smile running over his face.
tag: internationalnews , sports , football
Share This Post
YOU MAY ALSO LIKE
COMMENTS