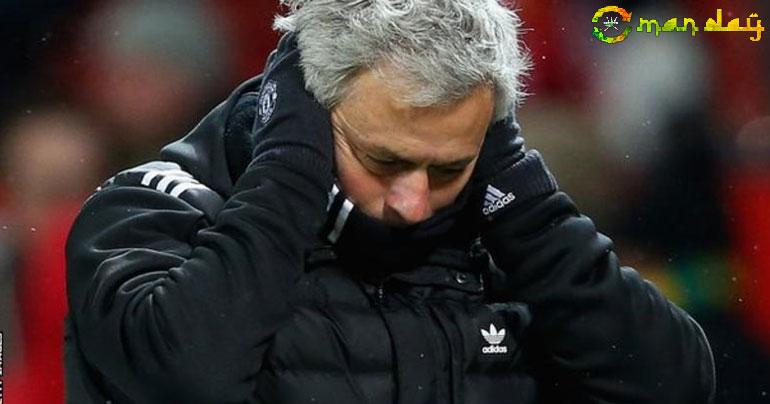 Jose Mourinho: Manchester United manager looking outdated - Chris Sutton
Mourinho has been criticised by some United fans and pundits for a style of football perceived to be unadventurous.
United are second in the Premier League and in the FA Cup semi-finals, but went out of the Champions League last week.
Former Arsenal striker Ian Wright told BBC Radio 5 live he "would not want to play for Mourinho right now".
United are 16 points behind Manchester City in the league with eight matches remaining and will face Tottenham next month for a place in the FA Cup final.
But while City have scored 85 league goals this season, United have scored only 58 - the fewest in the top four.
The Red Devils were knocked out of Europe by Sevilla, who won 2-1 at Old Trafford, while both City and Liverpool progressed to the quarter-finals.
Sutton, speaking on the Monday Night Club on BBC Radio 5 live, said: "Mourinho is a changed personality from the charismatic one that first came over in 2004. He is picking silly, personal squabbles.
"Is it disastrous for Manchester United at the moment? No.
"But is this what Mourinho's remit was, to come in and finish behind City and not push for major trophies? He is rattled.
"He looks across the city, and the style of football they and Liverpool play. This is a guy who first came on to the scene and was regarded as a genius. Now he is looking outdated in the way his team plays and the way other teams play."
Hear more from Sutton and Wright on 5 live's Football Daily podcast
Mourinho, 55, won three Premier League titles in two spells as Chelsea manager. He succeeded Louis van Gaal as United boss in May 2016, and won the EFL Cup and Europa League in his first season.
Wright blames the Portuguese for the "doom and gloom" at Old Trafford.
The former England forward said: "You look at the way United play, and the last time a Mourinho team played when you thought it was amazing was his second spell with Chelsea until halfway through the season.
"I don't know what has happened to him. The club have brought Mourinho in to bring back the greatness. He has spent a lot of money but he is finding arguments with anybody.
"Manchester City are playing a brand of football that is magnificent and United and the players still have 40% in them."
Is Shaw being bullied?
After United scored with both of their shots on target to beat Brighton 2-0 in the FA Cup sixth round on Saturday, Mourinho said his side had been "scared" to play.
Full-back Luke Shaw was among those singled out for criticism, with his manager "not happy with his performance".
The England international, who has played 15 times for United this season, was making his first start since 3 February.
"Is he being bullied?" asked Sutton. "I don't like the words 'bully' and 'bullying' in football because there is always big emotion in the dressing room from the managers.
"There are always choice words for a manager to single out players, it has happened since football began.
"Everybody is different. In terms of a manager, they have to work out the individual character of each player."
Wright said Mourinho should be doing "more" to get the best out of Shaw, who suffered a double fracture of his right leg in September 2015.
He said: "He has had a broken leg and seems a bit heavy but that does not stop him blasting up and down the wing.
"I don't know his private life, but it does not make sense a manager keeps going back and digging him out.
"Mourinho should be doing more with a 22-year-old who should be going to the World Cup with England from what I have seen."


'Shaw needs a cuddle - and then a dig'
Shaw joined Manchester United from Southampton for £27m in June 2014, making him one of the world's most expensive teenagers.
Former Saints youth academy director Jason Dodd said Shaw is a "fantastic player" but needs to be pushed "constantly".
"He does make you pull your hair out at times," said Dodd. "You have to try different things to get the best out of him.
"I think they have tried everything and they have not got through to him to get him out on the pitch and perform.
"Luke is one of those players where you have to keep on, you have to keep pushing him and he needs to be challenged."
Dodd said there were days at Southampton when Shaw would "go through the motions" in training.
"I was constantly on him," he said. "He likes it. He needs more of a cuddle, and then give him a little dig. That is how you get him going.
"He is a fantastic player, but if you have to question some of it - his drive, training everyday, and giving absolutely everything.
"You are at Manchester United. Mourinho expects you to put it in every session and that is an area where Luke will struggle."
Who should be helping Shaw?
BBC Sport's Simon Stone on BBC Radio 5 live:
The criticism from Mourinho has gone down badly with Shaw. He is pretty upset by this. I cannot overstate how angry people in his camp are.
He is not long back from a broken leg and this is not the first time Mourinho has had a go at him. He has repeatedly singled out Shaw. The realisation is dawning that his future is better served away from Manchester United.
Some of the players are incredulous as to why it is happening. Some will think it is the manager sounding off, some will be keeping their head down, but I am told it is a very individual environment.
Michael Carrick has been there for 12-13 years and is about to go into the coaching team. If anyone is going to stand up to Shaw, it should be Carrick. It is interesting to see how that dynamic will unfold.
It is not the dressing room of four or five years ago, when there were players like Patrice Evra, Nemanja Vidic and Rio Ferdinand who would go to Sir Alex Ferguson and say there was an issue.
tag: internationalnews , sports
Share This Post
YOU MAY ALSO LIKE
COMMENTS