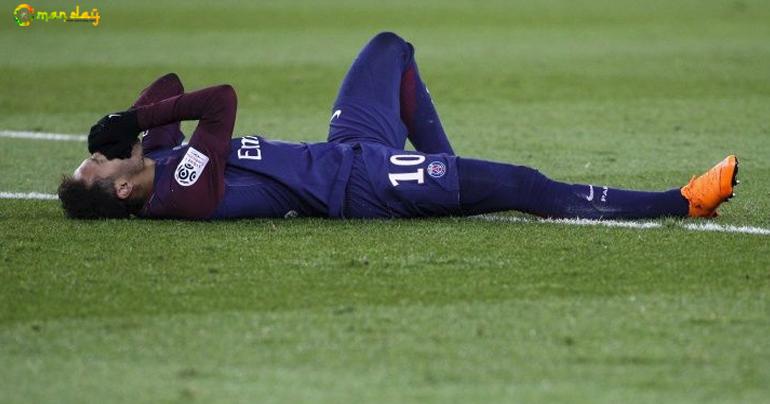 Neymar May Have To Undergo A Foot Surgery That Could Rule Out His Chances Of Playing The FIFA World Cup
Neymar faces a huge decision regarding whether he should operate on the foot injury that could well jeopardise his World Cup chances
The Brazilian international suffered "a sprain of the right ankle and fissure of the fifth metatarsal", according to the French league leaders, in their win over Olympique Marseille on February 25. Neymar was carried off on a stretcher in tears.
Although PSG manager Unai Emery on Monday declared himself "optimistic" that Neymar would be available for Tuesday's attempt to overturn a 3-1 defeat by Real Madrid in the Champions League, the growing feeling among the superstar's entourage is that he should have an operation.
This could create a political problem, since any surgery would keep the 26-year-old out for at least two months and precisely the European games he was so expensively signed for.
For his part, Neymar does not want to play while taking pain-killing injections, since that would almost certainly leave him unfit for the World Cup. There is also the danger that a fissure could develop into a fracture, potentially keeping him out of the Champions League if PSG progress anyway, as well as Russia 2018. The Brazilian's camp feel it is best that he has the operation, so he is then left with at least a month to prepare for the World Cup in the best possible condition.
PSG have naturally been keen to wait until the swelling around Neymar's foot goes down, although an operation hasn't been ruled out by the club either.
This was the view espoused by Emery on Monday.
"It's not true Neymar is going to have an operation," the PSG boss said. "I met with the doctor today and he told me how things are going, the extent of the injury the player has suffered and the decision that's been taken in terms of his recovery. We'll see how it evolves before taking a decision, together with the player. At the moment, we keep calm and see how it evolves over the next few days.
"A decision like this requires patience, and discussion with everyone involved."
Those close to the situation however believe there is the potential for a political dispute over how best to deal with the injury.
tag: international-news , sports
Share This Post
YOU MAY ALSO LIKE
COMMENTS