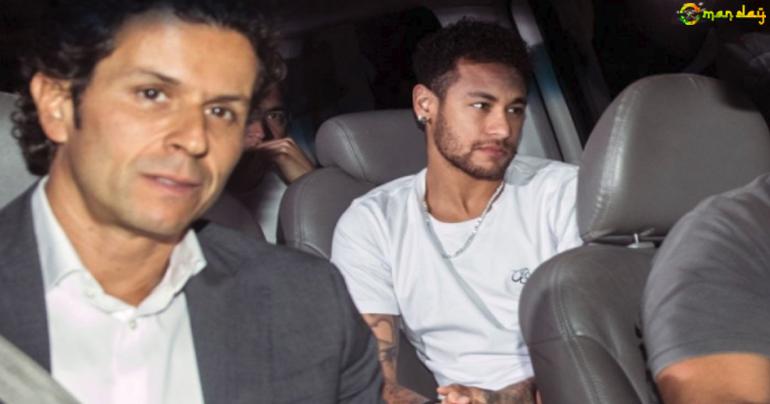 Neymar's golden foot to go under the knife
AFP
Belo Horizonte, Brazil: Brazil and Paris Saint-Germain superstar Neymar was to undergo surgery on a broken right foot on Saturday, putting the planet's most expensive footballer out of action until the eve of the World Cup.
The operation, performed by Brazilian national team surgeon Rodrigo Lasmar, was expected early on Saturday morning in the Mater Dei hospital in Belo Horizonte, where Neymar checked in the previous night.
Jose Luiz Runco, a former chief medical officer for the Brazilian team, told AFP that the surgery to mend the broken fifth metatarsal "is not difficult" and should take between one hour and 90 minutes.
What concerns Brazil and PSG is how long it will take Neymar to get back on the field, and scoring goals.
Lasmar described the break as serious and said that recovery will take from two and a half to three months.
That leaves PSG without the striker -- whose transfer from Barcelona cost the club a record 222 million euros ($264 million) last August -- when they face Real Madrid in a make-or-break Champions League clash next Tuesday.
Neymar has scored 28 goals in 30 appearances in all competitions for PSG, a prolific performance cut short by the injury on February 25 during the Parisians' 3-0 drubbing of Marseille.
Brazil's concern is that Neymar will be coming back only a few weeks before the June start of the World Cup in Russia.
After a remarkable turnaround in fortunes since the shambolic exit in a 7-1 defeat against Germany in the 2014 tournament, Brazil are seen as top contenders this time.
A big part of that optimism, though, depends on the talented Neymar.
No sneaking photos -
Neymar returned from Paris to his villa on the Brazilian coast on Thursday and on Friday night flew to Belo Horizonte.
In the heated atmosphere around the operation, Brazil's Globoesporte website claimed that Neymar was expected to come by helicopter and had booked a whole wing of the Mater Dei hospital. But a local newspaper reported he would take a more modest suite measuring around 80 by 40 feet (24 x 12 metres).
Staff at the hospital, a tall building with mirrored windows, were put on paparazzi lockdown, with a ban on using their cellphones anywhere near the star. However, an AFP photographer was given access to a room similar to the one Neymar was due to take -- a small suite with basic furniture and a second room for the patient.
"I hope he recovers quickly in time for the Cup, so that he can play," said Mateus Falqueto, 13, who waited outside the hospital in the hope of getting Neymar's autograph on a yellow Brazilian team shirt that had already been signed by several other players.
Neymar, 26, is hardly camera shy. Ahead of his arrival at the hospital he put up a picture on Instagram of himself in a wheelchair with his actress girlfriend Bruna Marquezine sitting on his lap and kissing him.
The image-conscious PSG star also posted a close-up of his hand, tattooed with a small cross, holding Marquezine's hand.
Family doctor
Neymar will feel the weight of a nation's expectations as he races to recuperate in time for the World Cup. He already seems sure to miss two warm-up friendlies against Russia and Germany in March.
However, he is in good hands. Lasmar's father Neylor was also the Brazilian team doctor in the 1980s and operated on another big star of the Brazilian footballing galaxy, Zico -- getting him ready in time for the 1986 World Cup in Mexico.
A plus for Neymar is that the enforced break from competitive football may do him as much good as it threatens harm.
"When you think how exhausting the European season is, he could even arrive fresher than the others, both physically and emotionally," said Cristiano Nunes, the physiotherapist for Brazilian first division club Internacional in Porto Alegre.
"He'll return with a real desire to play football and to show his potential."
According to a report in the French newspaper L'Equipe on Saturday, PSG are furious at Lasmar's diagnosis of a full fracture in the metatarsal, saying that in France doctors found only a less serious hairline fracture, which would allow Neymar back on the field more quickly.
Neymar has suffered 14 injuries that forced him to miss at least one game, including when he fractured a vertebrae during the 2014 World Cup -- forcing him to miss the infamous thrashing by Germany -- but the latest is by far the most serious, GloboEsporte.com sai
tag: international-news- , sports
Share This Post
YOU MAY ALSO LIKE
COMMENTS