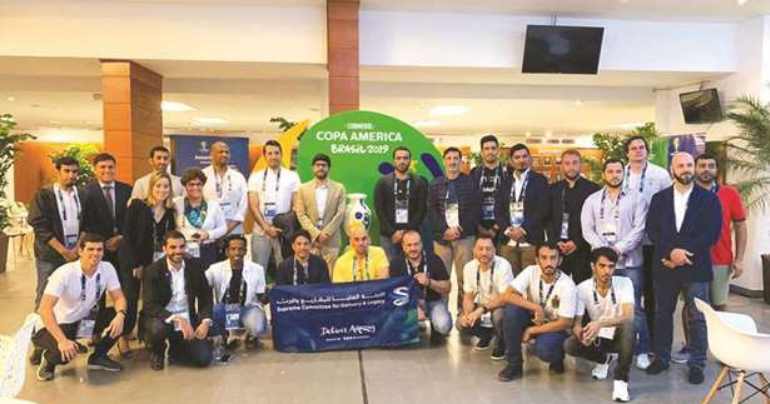 Qatar's football stakeholders boost mega-event knowledge during Copa
In tandem with the Qatar national team's debut at the 2019 Copa America in Brazil, a group of employees from the country's football stakeholders spent time with the tournament organisers in order to learn about event operations and host country requirements.
Ten employees were invited to shadow the tournament's Local Organising Committee (LOC), while 33 staff spent time with Brazil's security forces in order to gather knowledge to support preparations for the 2022 FIFA World Cup Qatar.
The secondment programme was organised by the Supreme Committee for Delivery & Legacy (SC), the body responsible for delivering the infrastructure required for Qatar 2022. Employees embedded within the LOC included representatives from the SC, Qatar Football Association, Qatar Stars League, the Josoor Institute and beIN Sports, while the security delegation included staff from the SC's Security Committee, Ministry of Interior, Qatar Armed Forces and Lekhwiya. In addition, a representative from Qatar is working with Interpol during the tournament.
Employees embedded within the LOC spent four weeks in Brazil in order to develop their operational expertise. The delegation contributed to a range of areas, including venue management, competition management, media operations and guest management. As well as being involved in all aspects of tournament delivery, participants attended relevant training, debrief sessions and match co-ordination meetings.
The security delegation, meanwhile, observed all aspects of both matchday and non-matchday operations, including crowd, fan zone and traffic management. They also observed the city command and control centres, team security, from stadiums to training sites, city security and police command centres.
Nasser al-Khater, FIFA World Cup Qatar LLC chief executive officer, said the secondment programme was an opportunity to gather important knowledge ahead of Qatar's mega-event in 2022.
"Ever since winning the right to host the World Cup we have made it a priority to learn from as many major international football tournaments as possible," said al-Khater.
"We participated extensively in the two most recent World Cups, in Brazil and Russia, and have also sent staff to observe and participate at a range of other events, including tournaments organised by FIFA, UEFA and the Asian Football Confederation."
Al-Khater added: "Each participant in Brazil closely observed the work of the LOC. In addition to contributing to event operations and host country requirements, they built and developed their football competition knowledge, while increasing their operational expertise and event readiness. This exercise will help us gather knowledge to support our own tournament in just over three years' time."
Jassim al-Kaabi, national security director, said: "The Copa America provided an excellent opportunity to observe all security aspects of a major international tournament. The delegation has gathered a significant amount of knowledge that will support our own planning and preparations for 2022."
Established in 1916, the Copa America is the oldest international continental tournament in the world. Twelve teams – including Qatar and Japan – participated in this year's event, which kicked off on 14 June. Qatar took part in the tournament for the first time after receiving a special invitation from CONMEBOL – the governing body of South American football. (SC.qa)
tag: qatar , football , copa-america , mega-event
Share This Post
YOU MAY ALSO LIKE
COMMENTS