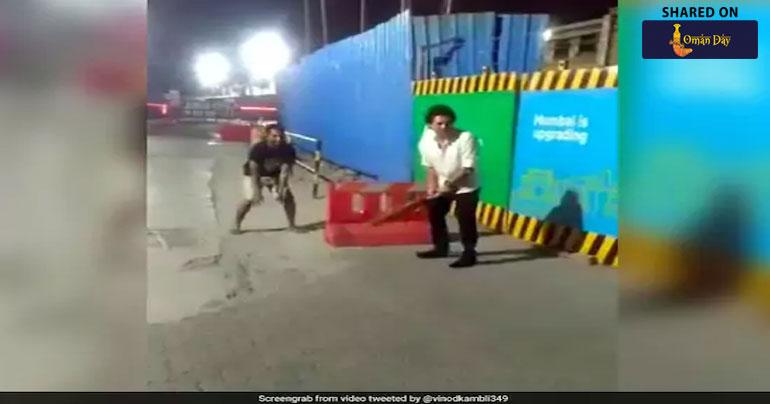 Watch:Sachin Tendulkar plays cricket with fans on a Mumbai street
Sachin Tendulkar has on numerous occasions surprised motor-cyclists by rolling down his car window and telling them the importance of wearing helmets. However, on Monday, Vinod Kambli tweeted a video of Tendulkar, getting out his car and indulging in a game of cricket with some youngsters in the streets of Mumbai. The video posted by Tendulkar's former India teammate quickly went viral with fans thanking Kambli for sharing the video on a public domain. The look on the faces of the youngsters when they realise that Tendulkar is walking towards them and wanting to join the game is the most memorable part of the viral video.
@sachin_rt. Master Blaster good to See you enjoying like Old times 😘😘😘 pic.twitter.com/9I96AcfKfG

— VINOD KAMBLI (@vinodkambli349) April 16, 2018
Soon after Kambli posted the video, other users started sharing the complete video, where Sachin can be seen exiting the car and then going towards the youngsters who were playing.
After a while, as passers-by realise that person holding the bat is none other than the Master Blaster, they converge at the spot and capture the moment in their phones with a lucky few managing to get a selfie with the cricketing legend.
Here is complete video of @sachin_rt street cricket yesterday in #Bandra 😍 pic.twitter.com/gihlljoA1O

— Sachinist.com (@Sachinist) April 16, 2018
Sachin is currently involved in the IPL 2018 with Mumbai Indians as the team icon.
The Master Blaster was a part of as many as 78 matches in the IPL, where he amassed 2,334 runs at an average of 34.83 and a strike rate of 119.81. Tendulkar won the Orange Cap in the 2010 edition of the tournament in which he scored 618 runs in 15 appearances.
Defending champions Mumbai Indians have had a nightmarish start to the season, losing all three of the match they have played so far. They are the only team in IPL 2018 to have not scored a point.
In their last match, Mumbai were shot down by Englishman Jason Roy's brilliant 91 not out. Delhi Daredevils beat Mumbai in a last-ball thriller to register their first win of the 2018 season.
Share This Post
YOU MAY ALSO LIKE
COMMENTS