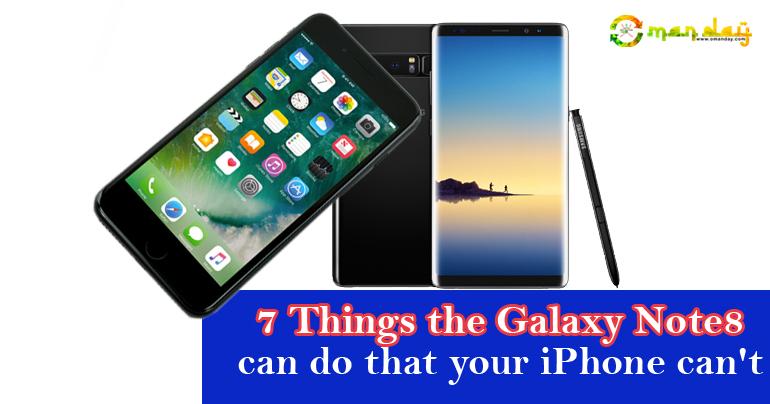 7 things the Galaxy Note8 can do that your iPhone can't
Now that Samsung has unveiled the Galaxy Note8 to the rest of the world, it's just a matter of time when Apple will clap back and reveal the new line of iPhones. As Galaxies and iPhones vie in the never-ending competition, followers of these top two brands continue to stay loyal. But the din over ?who's better' never dies down.
Before we go on further, we would like to quash every hint and doubt that we are siding with any of them. However, when we draw parallel between the two and study both, we find that Galaxy Note8 has an edge.
Keeping the spirit of healthy contest intact, we list out some features the Note8 has that the iPhone hasn't. We wonder can Apple add these features in to light up the competition? We'll surely find out when the iPhone 8 enters the show.
Add extra memory
While the iPhone 7 comes packaged with a maximum of 256GB, the Note8 only has 64GB of built-in memory. The kicker, however, is that the Note8 can be expanded with an extra 256GB which brings the total memory capacity to 320GB.
A stylus
Yes, the iPhone is compatible with a couple of third party styluses but the Note8 has its own, dedicated stylus pen. And you can also doodle with your new Samsung stylus pen, thanks to the Note8's Live Message feature.
Stare at your phone to unlock it
Technically, it's an iris scanner but who doesn't want to feel (and look) like a special agent who can unlock phones using eyes?
Wireless charging
It's been in the iPhone 8 rumour mill for a while now. But until Apple unveils it, Samsung takes the cake.
Plug your phone to a keyboard, mouse
iPhone users have remote accessibility to them. Note8's DeX connects your phone to a keyboard and mouse allowing you to use a special version of the Android OS.
Double the camera stability
The dual rear lenses on the Note8 both have optical image stabilisation (aka the tech that allows you to take less blurry photos). The current iPhone 7 only has one lens with that tech.
You can run two apps at once
What's the use of all that screen real estate? Ask the Note8 and the answer is for running two apps! Now you can chat up with your pals on Whatsapp while playing Clash of Clans!
tag: international-news , technology
Share This Post
YOU MAY ALSO LIKE
COMMENTS