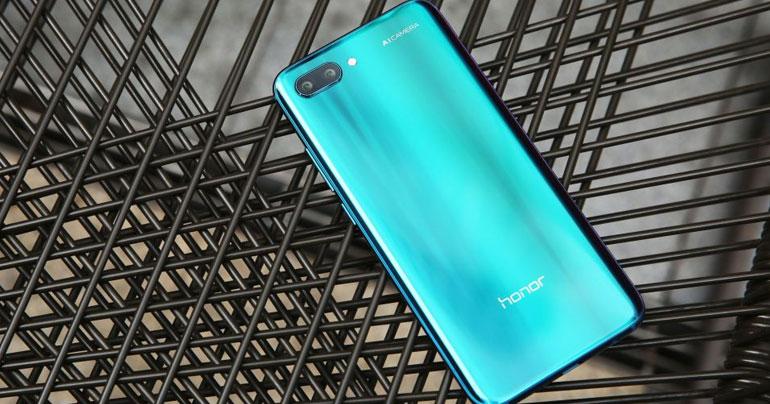 Honor 10 release date, price, news and features
The Honor 10 is here, and by here, we mean the UK, having been announced at an event in London on May 15.
Thanks to an earlier Chinese launch we already knew much about it, but this new announcement has filled in the gaps, including all important information on the price and release date.
For all of that, plus a refresher on the design, display, camera and other specs of this surprisingly affordable flagship, read on.
Cut to the chase
What is it? The latest affordable flagship from Honor
When is it out? Now! At least in the UK
What does it cost? £399.99 (around $545 / AU$720)

Honor 10 release date and price

Out now, you can buy it from today
Costs £399.99 (around $545 / AU$720)

The Honor 10 was available on May 15 so you won't have to wait to get your hands on it. At least, you won't if you're in the UK. There's no word on a US or Australian launch and as the Honor 9 didn't land in either of those countries we wouldn't expect to see it.

In the UK though you can buy the Honor 10 for £399.99 (roughly $545 / AU$720). That's up on the £379.99 (around $515 / AU$685) launch price of the Honor 9, but not by much, and it still makes this phone far more affordable than most handsets with comparable specs.

Honor 10 design and display

Glass back made up of 15 layers
Ultrasonic fingerprint scanner
5.8-inch 1080 x 2280 screen with a notch The Honor 10 has a glass back and metal frame, like so many other phones, but unlike so many other phones its back is made up of 15 layers of glass, which combine to let light beams bounce across the surface to striking effect. It can even shift between colors depending on the angle you view it at. It comes in Phantom Blue and Phantom Green shades and is 149.6 x 71.2 x 7.7mm and 153g. That's large, but no more so than you would expect a phone with a 5.84-inch screen to be. Speaking of the screen, it's a 1080 x 2280 IPS LCD one that comes in at 432 pixels per inch, putting it on par with the likes of the Huawei P20. That's perhaps no surprise, since Honor is a sub-brand of Huawei, but then the P20 costs far more. The screen also has a 19:9 aspect ratio, making it narrower than many phones, but in line with a lot of recent flagships. And like many modern phones the Honor 10 has slim bezels and a notch at the top – one which can be hidden by enabling a setting that blacks out the sides. You'll also find a slim strip of bezel below the screen, housing the fingerprint scanner, and that's worth giving a closer look to as it's an ultrasonic scanner built into the glass on the front. It's still below the main display, but the result is a completely smooth front, which you won't find on other phones.

Honor 10 camera and battery

Dual-lens rear camera
AI scene detection
3,400mAh battery These can be used in tandem for more detailed images than a single sensor would capture but they also benefit from AI-powered scene detection. This allows the camera to tell what you're shooting and optimize the settings accordingly, but cleverly it can actually detect multiple objects within a scene, with over 500 scene types available in total, so the setting adjustments it makes really should suit exactly what you're looking at. The Honor 10 has two cameras on the back, with both a 16MP f/1.8 color lens and a 24MP monochrome (black and white) one. Video can be shot in 4K resolution at 30fps and around the front there's a 24MP camera which, as well as having a high megapixel count, can also analyze more than one hundred points on your face, allowing for better selfies and facial recognition. As for the battery, that's 3,400mAh and you also get fast charging, but no wireless charging. It remains to be seen how long the Honor 10 will actually last from a single charge, but the battery size and many of the specs are the same as the Huawei P20, a phone which comfortably lasts a day of moderate use.

Honor 10 power and storage

Octa-core Kirin 970 chipset
4GB or 6GB of RAM Speaking of specs, there's an octa-core Kirin 970 chipset beating away at the heart of the Honor 10. That's the same chipset as you'll find in the Huawei P20 and Huawei P20 Pro. It's coupled here with either 4GB or 6GB of RAM, so power shouldn't be an issue, but we'll let you know exactly how it performs when we've put it through a full review. You also get either 64GB or 128GB of storage, but no microSD card slot. The operating system meanwhile is Android 8 Oreo, meaning it's on the latest version (at least until Android P lands in finished form) and that's overlaid with EMUI 8.1, which is the same skin as you'll find on recent Huawei handsets.
tag: news , technology
Share This Post
YOU MAY ALSO LIKE
COMMENTS