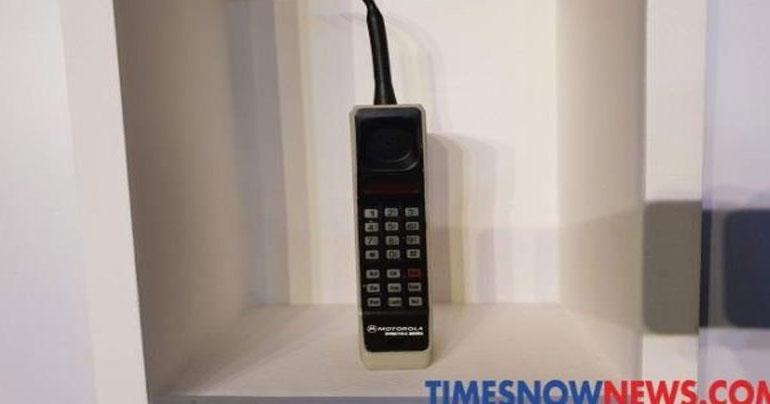 The device responsible for making the World's first portable cellular phone call
Can you imagine carrying a brick size phone with you every day or no mobile phone at all? Probably not, as we can't even think of a single hour without our beloved smartphones, but did you know this all started more than four decades back when the first call for a portable mobile phone was made? The date was 3 April 1973, when a Motorola engineer and his team achieved this feat after spending just five months building a mobile cellular phone.
Motorola was celebrating its 90th anniversary during the Moto G6-series launch in India and during that event, a brick-sized phone caught our attention. It was none other than the Motorola DynaTAC 8000x, the first commercial cell phone in the world through which the first portable cellular phone call was made. Motorola indeed has a long history in the mobile phone business and this the same company which holds the distinction of making the first-ever cellular call from a handheld wireless phone.
Martin Cooper is the name of that engineer who, on 3 April 1973, did something crazy for that time. He went on and made a phone call and that too while walking down the street. Martin Cooper was heading a team of engineers at Motorola that was working to build the first-ever cellular telephone in the world.
Once the "the brick" or "the shoe" was ready for testing, Cooper's first thought was to call a competitor. He hoisted that heavy piece of technology up to his ear and dialed up Joel Engel, the man who was doing similar work at AT&T, in order to tell him that he had a functional portable phone.
Using a prototype of what would be known as the Motorola DynaTAC 8000x, the first commercial cell phone in the world, Cooper stood near a 900 MHz base station situated on the Sixth Avenue, right between 53rd and 54th Street, in the New York City and placed a cellular call to the headquarters of Bell Labs in New Jersey.
The final product, Motorola DynaTAC 8000x was 9 inches tall, has 30 circuit boards and the capacity to store 30 numbers. After charging for the Motorola DynaTAC 8000x for 10 hours, it had enough juice to sustain just 35 minutes of conversation. But it was a substantial development, the one that laid the path for modern day smartphones. The price tag of Motorola DynaTAC 8000x started at $3,999 and most plans cost 50 cents per minute at that time.
Although it would take another decade for the Motorola DynaTAC 8000x to reach consumers and two more decades for the cell phones industry to overtake landlines in worldwide usage, the first ever portable cellular phone call was a major step in the future development of mobile technology and the industry as we see it today.
tag: news , technology
Share This Post
YOU MAY ALSO LIKE
COMMENTS