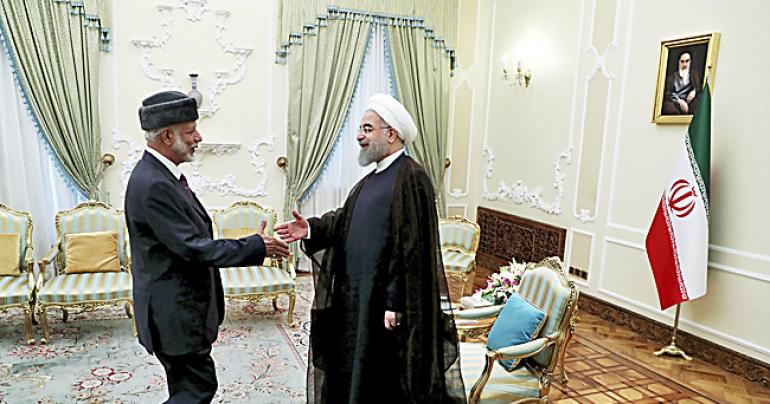 Iran, Oman to strengthen ties amid Gulf crisis
Iran and Oman will work to boost their ties, the Islamic republic's President Hassan Rouhani said yesterday, as a diplomatic crisis persists in the Gulf.
"Iran and Oman have for years had fraternal relations and the best must be made of these good relations to reinforce them," Rouhani said as he met Oman's foreign minister.
The Iranian government's website reported Foreign Minister Yussef Bin Alawi as replying: "Omani leaders believe our ties should be developed."
The remarks come after Saudi Arabia, the United Arab Emirates, Bahrain and Egypt last month severed ties with Qatar, accusing it of backing extremism and being too close to Riyadh's arch-rival Tehran.
They imposed a series of isolation measures on Qatar including cutting air, land and maritime links to the small gas-rich emirate.
Oman, which has maintained ties with Qatar, took part this week in a string of Kuwaiti and US-led talks towards resolving the crisis.
Rouhani slammed the sanctions imposed by the Riyadh-led group on Doha, which Qatar has called a "blockade".
"Threatening, pressuring and imposing a blockade against neighbours, including Qatar, is an erroneous method and everyone must try to reduce the tensions in the region," he said.
He also criticised "the policies of certain countries in the region against Syria, Yemen and Bahrain", in what appeared to be a reference to Saudi Arabia.
Iran regularly denounces bombings of Iran-backed Huthi rebels by a Saudi-led coalition in Yemen, where is has accused the coalition of blockading ports.
Share This Post
YOU MAY ALSO LIKE
COMMENTS