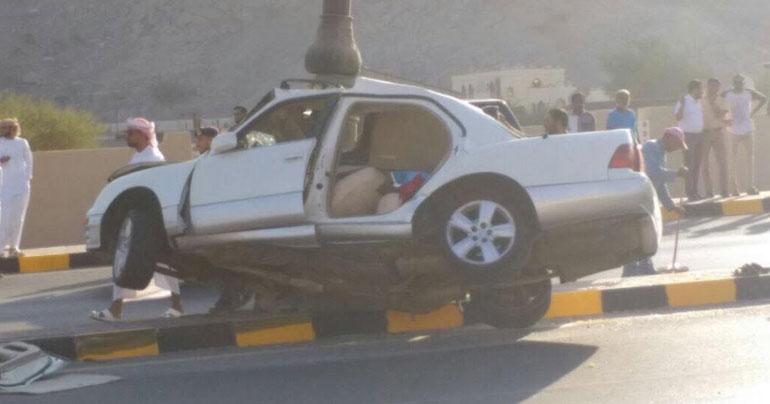 Two Indian expats dead, one fighting for life after road crash in Oman
Daily Oman
1 year ago
6212
Muscat: Two young Indian expats died and a third is critically injured after their car smashed into a street lamp in Muscat.

The accident near the Muttrah flyover happened in the early hours of Monday.

Darwin Selvaraj, Prince Edward and Percy Coelho, all in their early 20s, were driving home from an event when their vehicle collided with an iron lamp post at 3:14 am. Darwin - who is the son of an administrative member of staff at Indian School Muscat - and Prince both died on the spot, while Percy was transferred to

Khoula Hospital.

Speaking to the Times of Oman, a friend of the trio who was with them that night said, "I was just waiting for them to get home so we could play online but then after a point I just like passed out because it was late in the night."

He had been dropped off at around 3:00 am, shortly before the fatal accident. They had been out watching Real Madrid play Barcelona.

"I reached home around 3 am or something like that because we were watching a football match, Madrid vs. Barcelona. After that my mum wakes me up at 10 am and she is telling me all of these incidents happened."

The incident was confirmed by the Royal Oman Police (ROP) as well as officials at the Indian School in Muscat.

A spokesman from the ROP said, "Two were killed at the scene of the accident. Another was taken to Khoula Hospital in critical condition." An investigation into the cause of the crash is still ongoing.

Jose Robin, President of the Tamil wing of the St Peter and Paul Church, told the Times of Oman, "Both the kids, Darwin Selvaraj and Prince Edward, are from our church. Darwin has one sister, who is married and his father and mother are here in Oman."

"Both guys came to church regularly. We were surprised how this happened at night. I think there was a football match yesterday and they were coming back home after the football match."

"Darwin was very good in music. There was a marriage function at our friend's place on Thursday night and he was playing

music and singing songs," remembered Robin.

Darwin was from Tamil Nadu, Prince Edward hailed from Karnataka and Percy is a native of Goa.

Father Sebastien, a priest at the church two of the deceased attended also paid tribute, saying, "These kids were very good and very enthusiastic. They had a lot of friends in Oman. He (Darwin) is very active in the church activities. And recently he got a job at an insurance company."

"I was with Darwin's parents. We cannot console his parents. He was their only son. All their hopes and dreams were about him."

"They wanted to leave the country but before leaving they wanted to settle Darwin here before going back to India."

The bodies are at the ROP hospital. Tomorrow evening the bodies will be taken back to India.

In the wake of the accident, Indian School Muscat's Alumni Association (ISMA), has volunteered to raise any other aid that may be required.

"The ISMA team offers our deepest condolences on the passing of two of our beloved Alumni," said Mukund Manohar, president of the alumni association.

"Our heartfelt thoughts and prayers go out to our friends. We honour their legacy and mourn this tragic loss alongside their family and our friends."

"The ISMA team would like to offer any help we can provide to the families and our sincere request to other alumni to do the same."
Share This Post
YOU MAY ALSO LIKE
COMMENTS