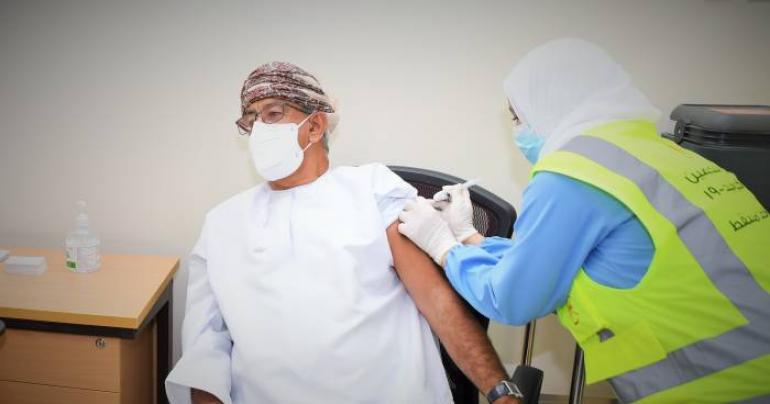 First recipients of coronavirus vaccine in Oman share their experiences
Muscat: People in Oman should continue to adhere to COVID-19 preventive measures even after getting vaccinated, say those who are among the first in the country to receive it.
The first person in the country to be administered the COVID-19 vaccine was Dr Ahmed bin Mohammed Al Saidi, the Minister of Health.
"I have to say that the injection was slightly painful, but that was expected," he said, shortly after he'd been vaccinated. "I followed the procedure and rested for 15 minutes, as everybody should do. I am aware that I might get some side effects such as body aches and pains, or low grade temperature, and I know how to deal with these.
"Everyone should know how to deal with this: take two tablets of Panadol or paracetamol as it is known, every six hours," he added. "Again, I want to assure everybody that yes, the vaccine has arrived, but the virus is still circulating. The arrival of the vaccination today does not mean that we can abandon the healthy lifestyle practices that we have to follow.
"Wearing the masks where appropriate must continue," urged the minister. "Keeping physical distances must continue. Hand hygiene must continue, shaking hands and hugging must absolutely not continue, social gatherings, especially in closed places, is a definite no-no."
Second in line was John Jabbour, the representative of the World Health Organization to Oman, who also echoed Al Saidi's request to continue following preventive measures.
"I congratulate the Sultanate for this initiative and the launching of the national campaign against COVID-19," he said. "This is an important step, along with the preventive measures such as hand hygiene, hand washing, physical distancing, wearing masks, and avoiding crowds. All of these, and the vaccine, will help communities and governments get rid of the transmission among people and prevent virus spread in Oman."
Froilan Cruz, a staff nurse from Al Nahda Hospital, became the first expatriate in the country to receive the COVID jab. Currently on leave, the Filipino national was surprised to receive a call asking him to come to Seeb Health Centre to receive the vaccine on Sunday morning.
"I was actually surprised because I did not expect it," he said. "I guess this shows just how lucky I am. I didn't expect to be the first non-Omani to receive the vaccine, but my name was on the list, and I arrived a bit early, which is why I guess I was first in line."
"While the Minister of Health and the WHO representative were being administered their vaccines, we were asked to wait in a room, where we were asked to read and sign some forms concerning the potential side effects we might face," added Cruz. "These are the same as they are with any other vaccine.
"When I told my family I was going to be administered the vaccine, there was quite a lot of scepticism from their side, as the vaccine has just come out of clinical trials, but I assured them that approval for this vaccine came a while ago, and it is being administered to people around the world," he explained.
The first batches of the vaccine have been assigned to frontline healthcare workers and those most vulnerable to the disease, such as the elderly, the immune-compromised, and people with chronic illnesses. Dr Mohammed Al Hinai, the head of internal medicine at Al Nahda, was also vaccinated on Sunday.
"The Ministry of Health announced to all hospitals in the Sultanate that it needed volunteers from the target groups to take the COVID-19 vaccine, and I therefore took the initiative to register my name," he said. "I was among those who directly dealt with COVID-19 patients, in terms of their hospitalisation, intensive care, treatment, and follow-up after recovery. We used to feel their suffering and pain, and witnessed through a number of deaths among both the elderly and the young."
"Among them were people who were healthy and did not suffer from any chronic diseases or health problems," Al Hinai added. "Some of them were also athletes. Since we did not have complete knowledge about COVID-19, so dealing with them was difficult."
His colleague, Dr Poonam Saraf, who was also working in the COVID wards, added, "I received the first dose without any issues and I am very happy to receive it. I am really thankful to everyone."
tag: omannews , omanlatestnews , muscatnews , coronavirus
Share This Post
YOU MAY ALSO LIKE
COMMENTS