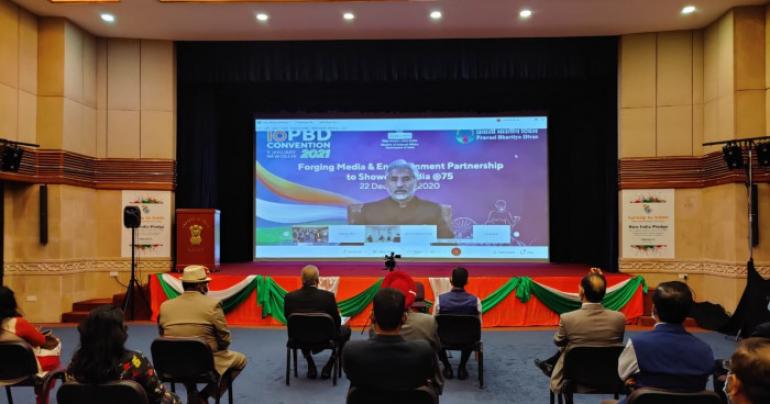 Jaishankar hails role of Indian expat community
Muscat: Contributions of expatriates from India to the economies of Oman and other countries in which they live and work have been praised by the Indian Minister of External Affairs.
Dr Subrahmanyam Jaishankar, speaking at a discussion ahead of Pravasi Bharatiya Divas, a day to honour the contributions of overseas Indians – known as pravasis – called them the country's extended family.
"We have long recognised that pravasis have played a role in influencing how the world perceives us, their individual and collective accomplishments are taken as our national traits abroad," said the minister. "Pravasis are our extended family, they live abroad, but remain deeply connected in heart and soul with us. We take great pride in their achievements, and there is always a strong sense of responsibility towards their welfare."
Jaishankar was speaking at a virtual conference called Forging Media and Entertainment Partnerships to showcase [email protected], organised by the Ministry of External Affairs. The event featured inputs from six Indians working in prestigious media organisations overseas, on how to raise awareness of India around the world.
The event was attended by representatives of Indian missions around the world, including posts in Tashkent, Atlanta, Stockholm, Kuala Lumpur, Nairobi, Dar-Es-Salaam, Rabat, Seychelles, Reunion, Geneva, and many others.
"For decades now, the world has appreciated our visual, creative and performing arts," said the External Affairs Minister. "Today, our traditions are even more widely prevalent. By its very nature, these are spheres which are people-centric and people-driven. Our government can certainly make a contribution through facilitation, encouragement and even support.
"A multipolar world is inevitably headed for cultural rebalancing, as it has for economic and political ones," he went on to say. "The Pravasi Bhartiya Divas is celebrated every year to mark the contribution of the overseas Indian community to the development of India."
Celebrated on 9 January every year, this edition's discussion saw insights on spreading awareness of India's culture and art from six non-resident Indians around the world. Rahul Das, the Managing Editor of Times of Oman, was one of the panelists at the event.
The other five were Manoj Ladwa, Founder & CEO of India Inc. Group, Sivakumar Nandesan, Managing Director of Express Newspapers Ceylon Pvt. Ltd, KV Rao, President SIFAS (Singaporean Indian Fine Arts Society), Rajni Ghai Malhotra, Editor, Canberra for Desi Australia, and Harish Goyal, CEO (Asia Pacific and Africa), Zee Entertainment Enterprises.
tag: omannews , omanlatestnews , muscatnews
Share This Post
YOU MAY ALSO LIKE
COMMENTS