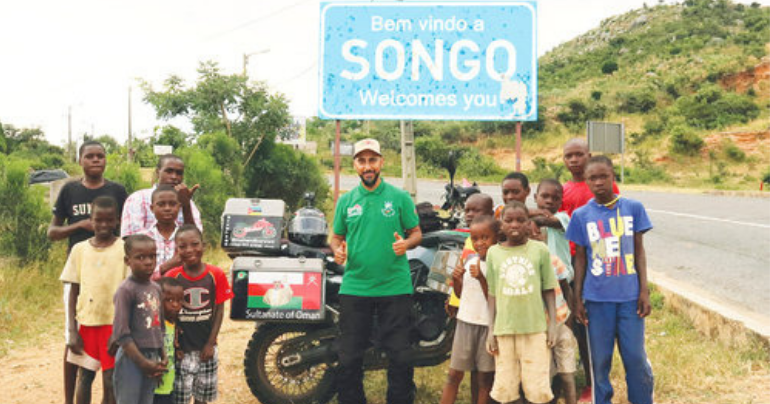 OMANI BIKER BARWANI UPBEAT ABOUT AFRICA TRIP
Omani biker Maher al Barwani is well on course to finish his African continent trip by 2020 where he expects to spread the message of peace, road safety and a united Africa. So far he has covered over ten countries in the course of two years.
Speaking about the trip, he said, "Soon I will leave for Zambia and then ride to Zimbabwe, Botswana and South Africa. I had not seen my family for almost two years and so I decided to visit them. I have covered 50 per cent of the continent and hope to cover the rest by 2020." He added until now he has visited a number of countries including the United Arab Emirates, Saudi Arabia, Sudan, Ethiopia, Kenya, Uganda, Rwanda, Burundi, Tanzania, Malawi, Mozambique and Zambia.
He said, "I started my journey in the middle of 2017 and am confident to finish it by 2020. I got a lot of support during the journey in different countries where people have been kind enough to assist me with food and accommodation and often their references have helped me in different countries and cities."
He said he faced different challenges and obstacles during the journey including thefts, snakes and insects.
"There were many challenges. One big challenge was being stuck at the borders for clearance and paperwork. Sometimes the wait even stretched for several days. There were no basic amenities like water and food in high temperatures which worsened the situation.
"During my journey I spoke in English and Arabic as well as Swahili. My family has been very encouraging during all these years."
Barwani's journey is being supported by PDO and the ministries of Sports Affairs and Foreign Affairs.
tag: omani-biker , african-continent-trip , spread-the-message-of-peace , road-safety-and-a-united-africa
Share This Post
YOU MAY ALSO LIKE
COMMENTS