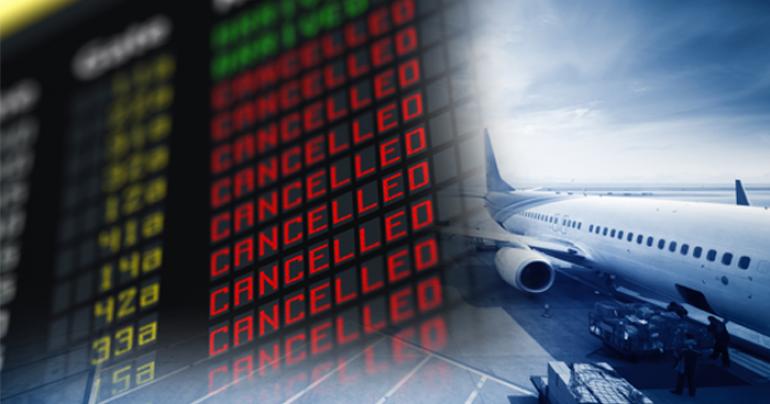 Over 300 flights cancelled in Oman's weeklong ban
Muscat: More than 300 flights to and from Oman have been cancelled, owing to the decision to close the country's borders for a week to stop the spread of new COVID-19 strain.
The decision, which was made by the Supreme Committee to deal with COVID-19, was announced on Monday, December 21, and came into effect at 1am the next day.
"The decision to prevent entry and exit to and from the Sultanate from the ports of entry on land, sea and air for a period of seven days has led to 148 incoming passenger flights being cancelled, as well as another 159 departure flights," said an official at Oman Airports. "The total number of flights cancelled therefore stands at 307."
Although international flights have been cancelled, domestic flights operating inside the country continue to operate. Cargo planes, goods trucks and freight ships are also allowed access to Oman's ports of entry and exit.
Oman Air, the country's national carrier, said in a statement: "For rebookings, guests holding Oman Air flights reservations can contact our call centre or Oman Air representatives in their respective countries."
Adding to this, SalamAir said it "will suspend operation for all international flights effective from 00:01 hours on December 22, 2020, for a period of one week."
In the wake of this decision, Air India has allowed passengers flying to and from Oman on their fleet the chance to change their flight bookings, on a single occasion, at no cost.

"In view of the Government of India directive on suspension of flights to the UK, from 22 to 31 December, 2020, and both Oman and Saudi Arabia from 22 to 29 December 2020, Air India is offering passengers booked to travel during the period a one-time free reschedule for travel completed, within December 31, 2021.
"All penalties for one-time rescheduling, cancellation and rerouting will be waived for bookings between 22 and 31 December 2020," added India's flag carrier. "For further assistance in this regard, please dial our customer care numbers."
Travel agents in Oman say many who had booked tickets during this period have requested refunds, although some are considering their options as to whether they can postpone their journeys to January 2021.
"Monday and Tuesday were very stressful days, but now the crowds in our offices are thinning out, because everyone knows what the situation is like," said Faiyaz Khan, general manager for Travel Point.
"We had about 80 to 100 people planning to come from different parts of the world to Oman to celebrate Christmas and New Years' – we had created some special packages for them, but they have decided to cancel their travel because of the ban – so those offers will now have to be scrapped."
He added, "Some passengers have asked us to postpone their bookings but haven't given us clear dates for when they want to fly again. This makes up approximately another 100 customers, but those who want to fly in January and February of next year have held on to their bookings."
"We have still not finalised some of the cancellation requests we've received in case people come back to us to suggest an alternative or want to rebook on other days," Khan said.
"Outbound travellers though have not cancelled tickets with us, because they are travelling for personal reasons: if they have to go, then they have to go, so they have just asked us to book them on the next available flight," Khan explained.
This is traditionally the peak time for tourists to come into Oman, and hotels had seen an increase in overseas bookings despite the pandemic, after airports in the country had reopened to international scheduled flights.
However, airlines and travel agencies in the country are attempting to promote domestic tourism by advertising packages to places such as Khasab, Salalah and Ras Al Jinz.

People waiting in the country to travel overseas said they were in touch with airlines for updates regarding the current situation, and had made plans to travel at the earliest available opportunity.
"I tried to get a flight to Doha to be with my family before the closure took effect, but I could not find a flight on time," admitted an Omani national. "I will have to wait for at least a week now."
"I was expected to fly out on 27 December, but my airline has asked me to wait until at least the 30th so that I might be able to fly then. My landlord has allowed me to stay in my house until 31 December, and I have made arrangements to move in with a friend if I need to wait longer to fly out," an Indian expat added.
tag: omannews , omanlatestnews , muscatnews
Share This Post
YOU MAY ALSO LIKE
COMMENTS