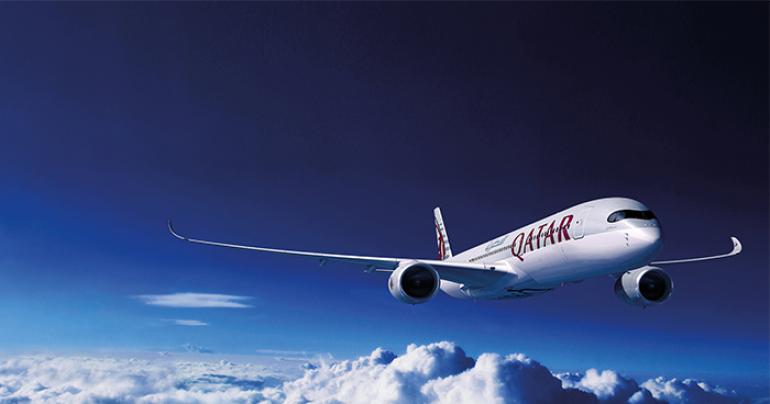 Qatar Airways resumes flights to Muscat, Salalah
Doha: Qatar Airways is pleased to announce the resumption of daily flights to Muscat starting from January 7th, as well as weekly flights to Salalah, with the first service having touched down at Salalah Airport on January 1st, 2021.
The newly resumed flights to Salalah will leave Doha each Friday at 08:25 (05:25 UTC) am and arrive to Salalah at 12:00 local time. Flights from Salalah are scheduled on Fridays at 16:00 local time to arrive to Doha at 17:50. The flights to Muscat will fly daily from Doha at 00:45, arriving to Oman capital at 03:25, and leave Muscat at 04:40, landing in Doha at 05:30. This schedule will be valid from January 1st to March 26th, 2021.
Qatar Airways and Oman Air recently signed a code-share expansion that will significantly increase the number of destinations available to Oman Air passengers from three to 65* on the Qatar Airways' network across Africa, the Americas, Asia Pacific, Europe, India, and the Middle East. Qatar Airways passengers will also benefit from additional connectivity, with the ability to book travel on an additional six destinations across Africa and Asia in Oman Air's network. Both airlines will also explore a number of joint commercial and operational initiatives to further optimise their partnership.
Bennet Stephens, Qatar Airways' Vice President Sales for Gulf, Middle East, Levant and Caucasus region, said: "We are pleased to continue rebuilding our network and offering our passengers the opportunity to travel safely from Muscat and Salalah. We are delighted with the response from the students' community of Oman to our Student club proragramme, where they can enjoy great savings and bespoke benefits such as extra baggage allowances, the flexibility to change the dates of their flight, complimentary Super Wi-Fi onboard".
Qatar Airways is currently flying to over 110 destinations worldwide with more than 800 weekly flights, providing more global connectivity than any other airline and connecting to US, GCC, Europe and Levant regions. Starting from January 29th, Qatar Airways will restart flights to Seattle, almost two months ahead of the initial schedule. Passengers travelling to and from US will have an opportunity to enjoy the QSuite, the World's Best Business Class Seat, offered by Qatar Airways on all its US flights.
In November 2020, Qatar Airways signed another important code-share agreement with Air Canada, enhancing travel services between Doha and Toronto. Passengers traveling to and from Canada will now be able to enjoy a seamless one-stop connection via, HIA, the Best Airport in the Middle East. Qatar Airways enhanced connectivity with North America will benefit passengers from Oman, including Omani students, who massively enrolled to Qatar Airways' Global Student program. Qatar Airways also expanded its connection with South America, increasing Sao Paulo services to 10 weekly flights and expanding its codeshare cooperation with LATAM Airlines Brazil.
While flying with Qatar Airways, the most experienced global airline flying consistently throughout, all passengers can expect the highest standards of hygiene and safety, including disinfecting with Honeywell's Ultraviolet (UV) Cabin System, providing the most advanced personal protective equipment (PPE) to customers and cabin crews, serving sealed items for passengers' use rigorously sanitizing all surfaces.
Qatar Airways continues to apply flexible booking policy, offering passengers a full year of flexibility with unlimited date changes and fee-free refunds for all tickets issued before 30 April 2021 for travel completed by 31 December 2021.
Qatar Airways' strategic investment in a variety of fuel-efficient, twin-engine aircraft, including the largest fleet of Airbus A350, has enabled it to continue flying throughout this crisis, and perfectly positions it to lead the sustainable recovery of international travel. Recently, the airline took delivery of three new state-of-the-art Airbus A350-1000 aircraft, increasing its total A350 fleet to 53 with an average age of just 2.7 years.
Due to COVID-19's impact on travel demand, the airline has grounded its fleet of Airbus A380 as it is not environmentally justifiable to operate such a large four-engine aircraft in the current market. Qatar Airways has also recently launched a new programme that enables passengers to voluntarily offset the carbon emissions associated with their journey at the point of booking.
A multiple award-winning airline, Qatar Airways was named 'World's Best Airline' by the 2019 World Airline Awards, managed by Skytrax. It was also named 'Best Airline in the Middle East', 'World's Best Business Class', and 'Best Business Class Seat', in recognition of its ground-breaking Business Class experience, Qsuite. The Qsuite seat layout is a 1-2-1 configuration, providing passengers with the most spacious, fully private, comfortable, and social distanced Business Class product in the sky. It is the only airline to have been awarded the coveted 'Skytrax Airline of the Year' title, which is recognised as the pinnacle of excellence in the airline industry, five times. HIA was recently ranked 'Third Best Airport in the World', among 550 airports worldwide, by the Skytrax World Airport Awards 2020.
Flight Schedule:
Doha – Salalah
1 flight per week operating on every Friday as per below timings:
QR1140 DOHSLL Departs: 08:25 Arrives: 12:00
QR1141 SLLDOH Departs: 16:00 Arrives: 17:50
Doha-Muscat

Daily flights as per below timings:
QR1148 DOHMCT Departs: 00:45 Arrives: 03:25
QR1149 MCTDOH Departs: 04:40 Arrives: 05:30
tag: omannews , omanlatestnews , muscatnews
Share This Post
YOU MAY ALSO LIKE
COMMENTS