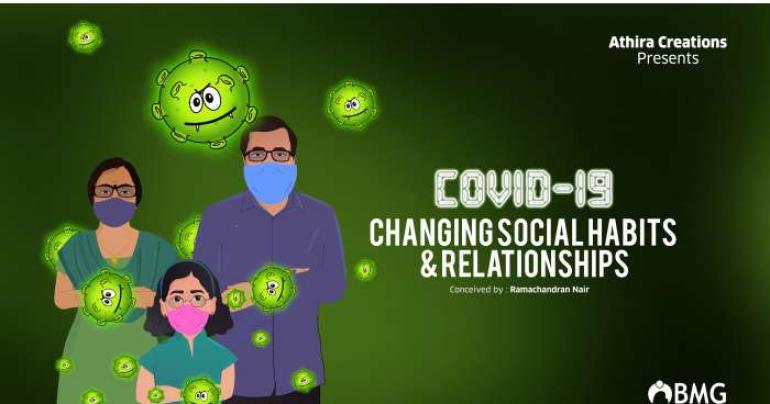 Short film by Indian expat in Oman highlights impact of pandemic on family
Muscat: An Indian expat in Oman has created an animated video to spread awareness about the impact COVID-19 has had on family relationships, which have changed greatly since the pandemic began.
While some parents have been able to form stronger bonds with their children because they're required to work from home, others have been unable to meet their loved ones because they are unable to travel to see them.
Produced by Ramachandran Nair, the two-minute clip features a voiceover in Malayalam, the language of the Indian state of Kerala, from where many expats come to Oman and the other Gulf countries to work, as well as English subtitles so a broader audience can understand the video and its message.
"Children and elderly people are the most affected by the ongoing coronavirus pandemic," he said. "They have been forced to stay indoors for no fault of theirs, and it is also torture for them to be stuck, indoors instead of going out and having a social life.
The video features visuals of key elements of family life, such as a mother interacting with her daughter, a family sitting together for dinner, and how the modern world has led to the fracturing and splintering of such routines, which might seem very ordinary, but are key elements of a close-knit family.
"The pandemic is a good learning opportunity for both parents and children to realise how life changes, and what it feels like, when you remain locked indoors," he said.
"Interestingly, the ongoing scenario has come as a great relief to working parents who were earlier unable to spend time with their children. Now, those following the 'work from home' concept can have their breakfast, lunch and dinner together, bringing a new dimension to family life."
"With appropriate visuals, the message is clearly conveyed to make sure viewers understand about life before COVID-19 and how it has changed during the pandemic, as well as stressing the importance of the concept of a true family," added Nair.
"The movie is also made to raise social awareness on COVID-19 protocols, such as wearing facemasks and social distancing in public places."
tag: omannews , omanlatestnews , muscatnews
Share This Post
YOU MAY ALSO LIKE
COMMENTS