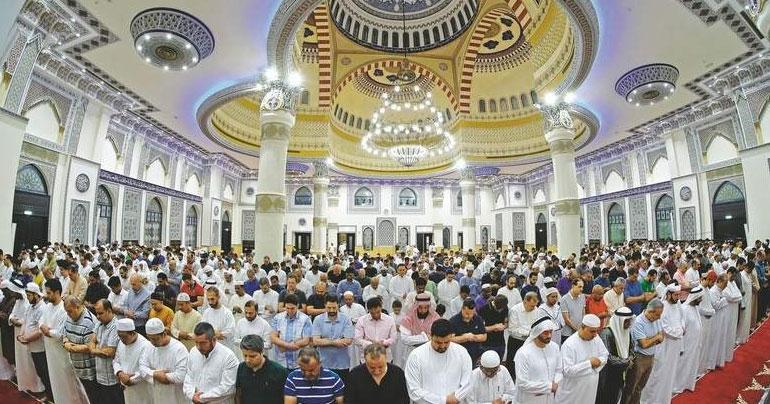 The holy month of Ramadan will begin on Thursday in UAE?
Daily Oman
8 months ago
346
The holy month of Ramadan will begin on May 17 (Thursday) in UAE, wam announced today.
In a tweet on Tuesday night, wam announced that the Ramadan crescent wasn't sighted today, hence Wednesday will be the last day of Shaaban - with the holy month of Ramadan beginning on Thursday.
Earlier today, the UAE's committee for moon-sighting met after the Maghrib prayer to announce the date for the commencement of Ramadan.
Kuwait, Bahrain and Jordan also declared May 17 as the first day of Ramadan.


Earlier, Saudi Arabia announced that the Saudi moon-sighting committee met on Tuesday evening and were not able to sight the Ramadan crescent, Al Arabiya reported.
Shortly after Saudi announcement, Sheikh Hamdan bin Mohammed bin Rashid Al Maktoum, Crown Prince of Dubai, posted an Instagram story - announcing that Ramadan will begin on Thursday (May 17) this year.
The UAE government has reduced working hours for the public and private sector for the holy month of Ramadan.
#wam_breaking | Thursday, May 17th, is the first day of the holy month of #Ramadan in UAE, Moon-Sighting Committee announces. pic.twitter.com/UZXR6T8HIT

— WAM News / English (@WAMNEWS_ENG) May 15, 2018
#الديوان_الملكي : المحكمة العليا :
يوم غد الأربعاء هو المكمل للثلاثين من شهر شعبان لهذا العام ، ويوم الخميس 17 / 5 / 2018 هو غرة شهر #رمضان المبارك 1439 .#واس pic.twitter.com/kpMWQ55NCt

— واس (@spagov) May 15, 2018
According to the Federal Authority for Government Human Resources, working hours for the public sector employees will be from 9am until 2pm across the UAE, whereas working hours for the private sector have been shortened by two hours.

Although Ramadan is always on the same day of the Islamic calendar, the date on the Gregorian calendar varies from year to year, since the Gregorian calendar is a solar calendar and the Islamic calendar is a lunar calendar. This difference means Ramadan moves ahead in the Gregorian calendar by 10-11 days every year.
Earlier today, the Australian National Imams Council has declared that the holy month of Ramadan will begin on Thursday, May 17. In a post on their verified Facebook page, the council said Taraweeh prayers will be held on Wednesday, May 16.
Parking during Iftar across paid zones in Dubai will be free. The paid parking zones in Dubai will be operational from 8am to 6pm and from 8pm to 12am during Ramadan, it was announced on Tuesday. At Tecom, the tariff will apply from 8am to 6pm, while in the multi-level parking lots, the fees will be applicable 24/7

Announcing the timings of various services during the holy month, the Roads and Transport Authority (RTA) said from Saturday to Wednesday, the Metro service will be operational on both the lines from 5am to 12am. On Thursdays, the service will be from 5am to 1am (the next day); and Fridays from 10am to 1am.

Metro link bus stations at Rashidiya, Mall of the Emirates, Ibn Battuta, Burj Khalifa, Abu Hail, and Etisalat will be in service from 5am to 12.20am.
Share This Post
YOU MAY ALSO LIKE
COMMENTS