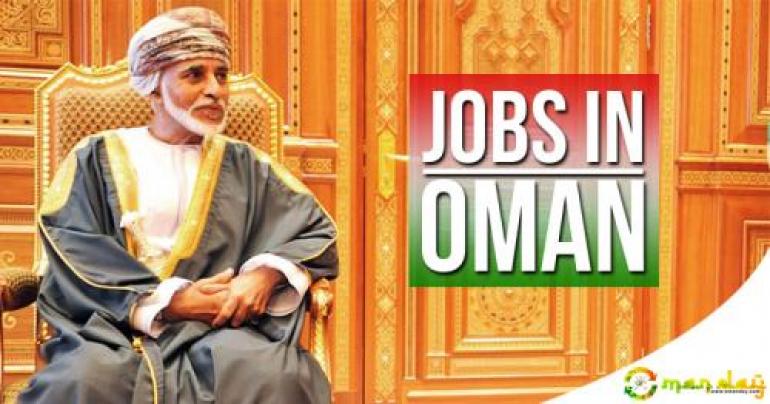 Top 10 Jobs Vacancy in Oman
1. Sales Executive
Experience: 7 - 9 years
Education: Intermediate School
Nationality: Any GCC National
Job Description
Conducting market research to identify selling possibilities and evaluate customer needs, Actively seeking out new sales opportunities through cold calling, networking and social media, Setting up meetings with potential clients and listen to their wishes and concerns
Desired Candidate Profile
> Candidate must be presentable and has a keen appetite to pro-actively chase and win new business,
> Excellent interpersonal and communication skills,
> Initiator, self-starter and ability to build relationships with clients
2. MECHANICAL FOREMAN
Experience: 7 - 10 years
Education: Diploma(Mechanical)
Nationality: Any Arabic National, Any European National, Indian, Filipino
Job Description
We are looking for MECHANICAL FOREMAN for Oman.

Duties :

Mechanical Foreman should have a strong knowledge of the working principle and maintenance of the Diesel Engine on which he is working, should be familiar enough with all type of tools and instruments used in maintenance operations.

1. To work in consultation of the Mechanical Engineer.
2. To work and lead the Mechanical maintenance team.
3. To carry out maintenance activities as per maintenance manual.
4. Effective handling of tools and tackles to improve the safety & quality of Maintenance.
5. Maintenance activities to be reported to Mechanical engineer or Area Manager.
6. Tool box to be given to technician before commencing the maintenance work.
7. To be able enough to select the most appropriate type of tools for carrying out a particular type of maintenance operation hence to avoid repetition and time loss.
...[ Continue to next page ]
Share This Post
YOU MAY ALSO LIKE
COMMENTS