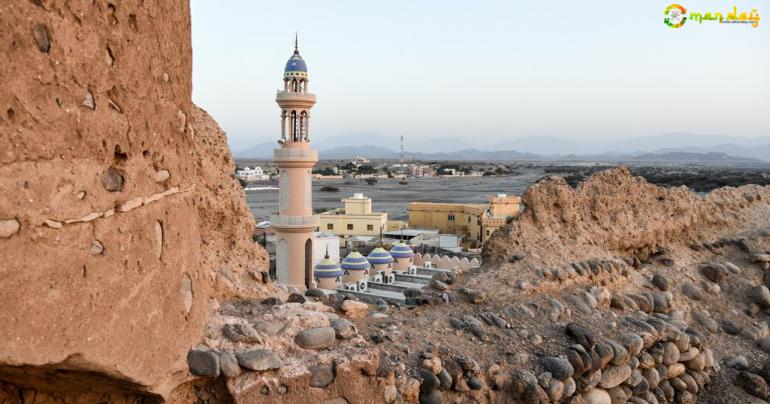 Jamma small village in Oman
Jamma also sometimes spelled Jammah, is a small village near Al Rustaq in the South Al Batinahregion of Oman, that can be reached directly from Muscat via-Muscat Expressway.
The village is home to Al Harasi (also Al Harrasi) tribe in Oman, and its a small village with lots of palm farms and a wadi crossing it. I recently went to Jamma village with a few friends as a 'photo-walk', as I heard of its ruined castle and thought it is a good way to get out to get some shots while also exploring a new place which I haven't visited before.
After parking our car by the mosque in the village, we made our way through the road and found an entrance in which to pass through the palm farms in Jamma village. We spent a very pleasant afternoon walking through the beautiful and lush plantations in Jamma village, which makes you completely forget the afternoon heat from moments ago and feel the tranquility of the surroundings. Of course, the farms are private property so always be courteous to the villagers and farm-workers and stick to the foot paths to avoid stepping on the farms themselves, it is also a nice gesture to extend a greeting 'al-salam alyukom' to people you pass.
You may notice the smoke in some of the photos – this is a common practice in typical Omani farms where old palm trunks are either partially burned to drive away pests and bugs (which is why you may see some healthy palm trees with signs of burned charcoal on their trunks), or burned completely and mixed with the soil to improve its fertility.
We walked through the farms until we reached the wadi, from which we crossed it into the eastern side of Jamma village, which has a mix of modern and old houses – some of which are semi-standing. The ruins of Jamma Castle is a short hike away on a small hill over-looking the village and offers fantastic views of the village and its farms, especially if you time it so you are there during golden hour! Watch out for the bats inside the castle towers
We found Jamma village to be a fantastic place to visit for a photo-walk, and a great way to spend a leisurely afternoon exploring its beautiful farms, especially since it is such a short drive away from Muscat. We still did not get the chance to explore its Eastern side, which looked to have ruins of another castle and more old buildings – but there are always more photo-walks to do. You can always extend your trip by continuing on to Al Rustaq and Al Hazm Castle, or alternatively by visiting at Al Abyad Sand Dunes or Wadi Al Abyad.
How to get to Jamma Village
Jamma village is about 20km North-East of Al Rustaq, and just over an hours drive from Muscat Expressway (Note: Google Maps still does not show the new extension of the expressway, and might direct you back towards Sultan Qaboos Highway to enter through Al Masanah – but you should keep driving and there will be an exit to Jamma after you pass Al Abyad Sand Dunes).
tag: about-oman , top-destination
Share This Post
YOU MAY ALSO LIKE
COMMENTS