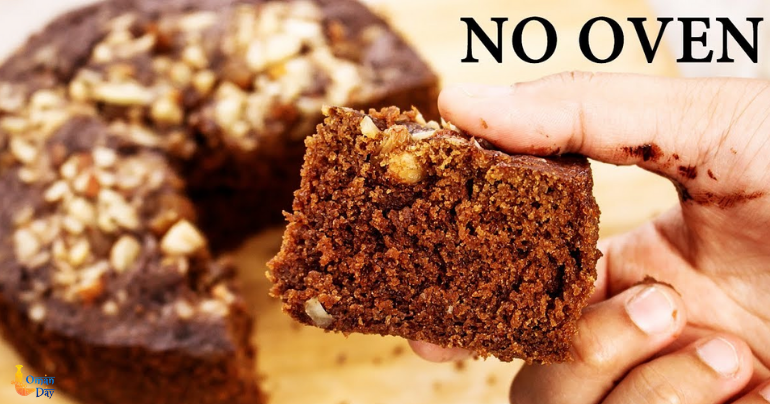 Chocolate Biscuit Cake – 3 Ingredient Eggless No Oven Bake Recipe
Everyone loves chocolate biscuit cake, and it's so simple to make! All you need is just three simple ingredients to make this. This decadent Chocolate Biscuit Cake is made with biscuits, milk and eno. This is one of the easiest chocolate cakes that can be made in a jiffy. Treat your kids to this delicious Chocolate Biscuit Cake on their special day. They won't stop praising you. Let's begin!
Servings Prep Time for 1 cake - 15 minutes
Cook Time - 40 minutes
Ingredients
240 gms Bourbon Biscuit 2 packets
1 packet Eno 1 tsp
1 cup Water / Milk
Water as required, for steaming the cake
1 tsp oil for greasing the cake tin
Nuts / Choco Chips optional, for garnish
Servings - 1 cake
Instructions
In a large cooker, pour water and place a wire stand or a ring cutter or anything that will elevate the height. Cover and allow the water to come to a boil for about 10 minutes.

In a mixer jar add the bourbon biscuit and blend to make a fine powder. Transfer to a mixing bowl.

Pour half cup of milk and stir, add the remaining milk. The cake batter is ready. Set aside.

Grease the 5 inch round cake tin with oil, set aside.

Add eno powder to the batter, and stir in one direction only.

Pour this batter into the cake tin and garnish with chopped nuts, if you like.

Place the cake tin on the stand and then close the cooker. Steam the cake over low heat for 25 minutes.

Remove the cake and allow the cake to cool down completely.

Once cooled using a knife clear the edges and transfer the cake on a serving plate.
serve
Slice and serve the super soft and moist cake immediately.
Recipe Notes
Notes:
For this recipe, you can use about 200 -300 gms of biscuits.
You can use baking powder or soda instead of eno, but you will have to also use some lemon juice or vinegar along with that.
You can also bake the cake in the oven in a preheated oven at 180°C for 25 minutes.
If you find cracks in the cake then that means your flame was high.
tag: oman , omanday , cake , food , health , blog , eggless , recipe , bake , chocolate
Share This Post
YOU MAY ALSO LIKE
COMMENTS