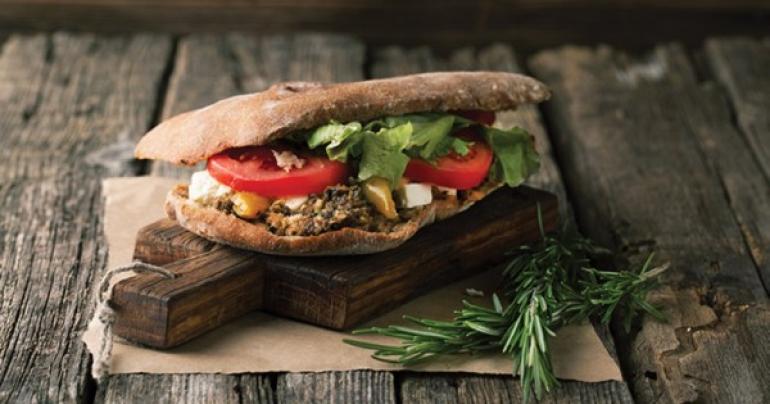 Simple lunch recipes to pack for work
PESTO CHICKEN SANDWICHES

With the goodness of pesto, mayo and chicken, these sandwiches are not only delicious but also quick to make.

Ingredients

• 1 and half cups boiled and shredded chicken
• 1/2 cup mayonnaise
• 1 cup fresh basil
• 1 clove garlic
• 1/2 cup grated parmesan
• 21/2 tbsp olive oil
• Salt and pepper to taste
• 6 wholewheat bread slices

Extra toppings:

• Tomatoes cut in rounds and cheese slices

Preparation

• Combine the chicken and mayonnaise in a mixing bowl.
• In a food processor pulse basil, garlic, grated parmesan, and olive oil. Add salt and pepper to taste.
• Combine the pesto with the chicken and mayonnaise and mix well.
• Assemble on sandwich bread with cheese and tomatoes.


POTATO KATHI ROLLS

A scrumptious Indian style wrap stuffed with potatoes that is perfect for your snack or lunch box at work!

Ingredients

• 2tbsp oil
• 1/2 tsp cumin seeds
• 1/2 tsp turmeric powder
• 1 tbsp ginger- garlic paste
• 1 small onion, finely chopped
• 1 large tomato, finely chopped
• 1 tsp red chilli powder
• 2 tsp coriander powder
• 2 potatoes peeled and cubed
• Salt to taste
• Left over rotis/chapatis or tortillas

Preparation

• Heat oil in a pan and add cumin seeds. Once they splutter, add onions and saute till pink.
• Now add ginger-garlic paste and stir for a minute.
• Add the chopped tomato along with salt, turmeric powder, red chilli powder and coriander powder.
• Stir. Cover with a lid. Allow this to cook for about 8 to 10 minutes on medium heat. Add a little water so that the spices do not burn.
• Once the tomatoes have soften, add the cubed potatoes.
• Stir to combine. Cover with a lid and cook for 15 minutes on low heat or till the potatoes have cooked through
• Toast 2 rotis till both sides turn a light brown on a griddle.
• Top the rotis with potatoes and drizzle some mint chutney and roll into a wrap.



STIR FRY NOODLES WITH SHRIMP

This is an easy- to- make meal loaded with vegetables and shrimps stir-fried in soy and oyster sauce
• 1-2 tbsp minced garlic
• 1/2 cup spring onion greens and white
• 1 cup shredded cabbage
• 1 cup shredded carrots
• 1-2 tbsp vegetable oil
• 2 tbsp oyster sauce
• 1 tbsp soy sauce
• A pinch of white pepper powder
• 1 tsp sugar

Preparation

• Fill a medium pot with water and bring to boil. Add noodles to boiling water and cook for 3 minutes.
• Drain water from noodles. Add some vegetable oil to the noodles and mix it prior to sauteing with the vegetables and shrimps.
• This will prevent the noodles from sticking together.
• Heat up a wok under high heat. Add 1/2 tbsp vegetable oil. Once wok is heated up, add the shrimps and cook for a few minutes until done.
• Remove shrimps from the wok.
• Add 1tbsp vegetable oil to wok. Once oil is hot, add garlic and cook for 30 seconds.
• Add noodles and stir continuously for 1 minute or so, then add oyster and soya sauce to noodles.
• Continue stirring noodle for another minute and coat noodles evenly with sauce. Season with white pepper powder and sugar.
• Add shrimps, spring onions, shredded cabbage and shredded carrots to the noodles. Stir for 2-3 minutes on high heat making sure the crunch of the vegetables is retained.
• Serve topped with sriracha sauce.


NO MAYO PASTA SALAD

Light, crunchy and fresh, the 'no mayo' pasta salad is a must have in your office snack or lunch box

Ingredients

• 2 cup pasta
• 1 cup red bell pepper, diced
• 1/2 cup sweet corn kernels(steamed)
• 1/2 cup Greek yogurt
• 1/4 tsp garlic salt
• 3tbsp chopped fresh mint
• 2tbsp olive oil

Preparation

• Cook pasta according to the package directions. Drain, run cold water over it and drain well again. Add the bell pepper and corn kernels to the pasta.
• Mix yoghurt, garlic salt and pour it over pasta and bell peppers. Add in chopped fresh mint and toss. Drizzle olive oil over it and serve.
tag: blog , health , food , recipes
Share This Post
YOU MAY ALSO LIKE
COMMENTS