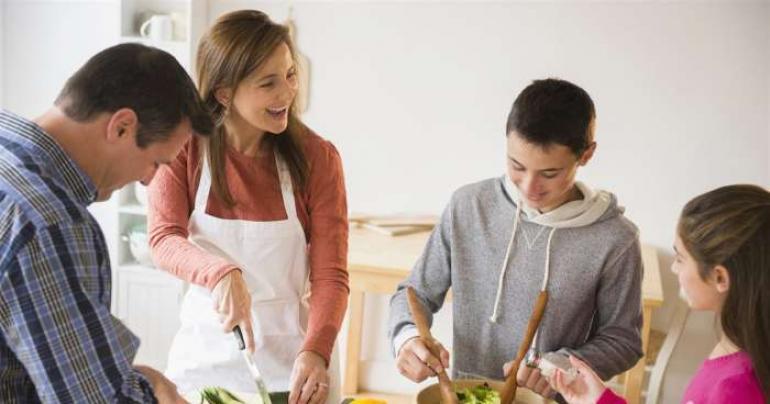 Tips to help you thrive during stressful times
Life is unpredictable. Between these stressful times and your own personal challenges, you're probably dealing with more today than perhaps ever. Stress can throw your body, emotions and routine off course, but sometimes even the worst of situations can provide a silver lining. A recent survey found more than half of respondents said they cook more than before the pandemic with 51% stating they will continue to cook more after the crisis ends. Besides healthier eating habits, more than 75% of participants have adopted at least one new wellness habit.
Making small adjustments in key aspects of your day can make a big difference long-term when it comes to supporting your healthy lifestyle.

Here are five tips that will help you:

Tip 1: Choose nutritious foods
When we think about stress relief, meditation or yoga may come to mind first, but diet can also play an important role in reducing the negative effects of stress on your body. A diet rich in whole foods can provide many benefits, including supporting a healthy immune system and even boosting your mood. Although it can be challenging to eat healthy with limited time, setting aside a few hours a week to food prep can help improve diet and lead to reduced stress levels. So, instead of reaching for takeout menus, cut up veggies for easy grab-and-go snacking, stock your pantry with nutritious options and set yourself and your family up for success.

Tip 2: Add a multivitamin
Nobody is perfect and it can be difficult to get all of the nutrients you need from food alone. Stress can also deplete many vital vitamins like B vitamins and vitamin E. Adding a multivitamin to your daily routine that offer key vitamins and minerals your body may need in the form of tasty bites made with real farm-grown apples (in the form of apple puree concentrate) can help supplement a healthy diet. These bites support physical energy by helping convert food to fuel and immune and bone health.

Step 3: Move More
When you exercise your body releases endorphins, which can help you feel better. Not to mention, exercise has also been linked to reduced stress, lower risk of disease and longer lifespan. You don't have to hit the gym to move. Take a walk outside, check out the many free workouts offered online, or have a dance party with the kids. As long as you pick something you enjoy, it will be easier to stick to.

Tip 4: Volunteer
Adding purpose to your life may be just what the doctor ordered. Research from the University of Georgia found people who volunteer regularly feel better mentally, physically and emotionally. And the best part? You don't have to volunteer in person to give back. Packing meals at home to drop off for those in need, fostering or adopting an animal, tutoring students or making virtual calls to the elderly can make a big impact. It's also something the whole family can do together to feel more connected to the community, all while helping to reduce stress.

Tip 5: Take a digital detox
Technology may seem like a saving grace to many looking for comfort, but increased use contributes to stress and can disrupt quality and length of sleep. Disconnecting entirely may not be possible, but setting boundaries and selecting windows of time to shut off can do wonders for your mental health. Limiting social media use to about 30 minutes per day has been shown to significantly improve well-being by reducing symptoms of depression and loneliness. Whether implementing a no-device policy at meals, trying to go screen free for one day of the week or simply taking a much-needed break from social media, pick something that's realistic for you and your family.

These are just a few simple tips that will help you live your best today no matter what tomorrow brings. Keep a positive attitude and be patient and you'll find your groove again.

Share This Post
YOU MAY ALSO LIKE
COMMENTS