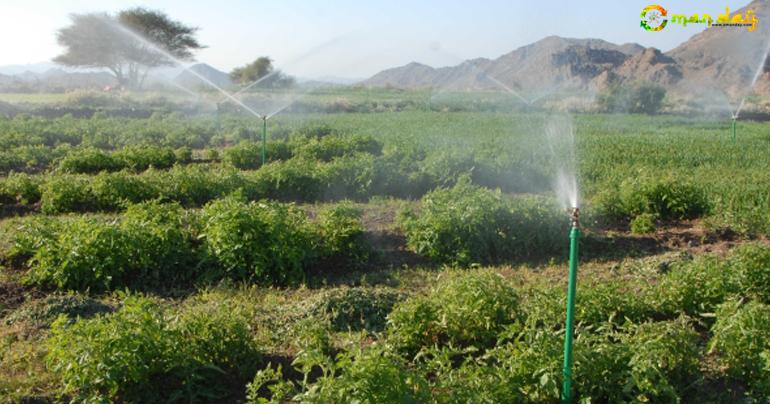 Old Omani ways help modern agriculture
Omanis have been interested in agriculture since ancient times. They realised its importance as their only source of income.

They dug Aflaj "ancient irrigation system or water channels" and harness the wide open spaces to make them lush greeneries and cultivated fields.

Agriculture in the Wilayat of Al Mudhaibi was old, the same as the rest of the other wilayats, rely on its own efforts and the strong will and determination that characterise the people of Oman.

The Omanis managed since ancient times to dig wells, which help them in agriculture and irrigation. The mind triggered with inimitable genius that created irrigation wheel, locally known as "Al Mangoor" to get water from wells.

The number of Aflaj in the Wilayat of Al Mudhaibi are 143, some locally called as "Ghaili" which means that they flow only after good amount of rains and most of them locally called "Dawoodi" that means they flow continuously from old times.

Some of those Aflaj are large and well-known, characterised by far distance of their headwaters, abundance of water and widespread of tributaries across many towns of the wilayat.

Since the beginning of the modern Renaissance on this beloved nation, springs of goodness and graces erupted over Oman, resulting in big luxuriousness green field. Agriculture in this wilayat has its abundant share of these services.

The government developed agriculture due to its prominent role in the national income and because it is one of the nation's wealth, by encouraging farmers to continue to work in agriculture through provision of loans and facilities.

Efforts were made for developing farming and irrigation through the introduction of modern methods of tillage, such as the establishment of greenhouses, provision of seeds and fertilizers and how to use them, which led to raising the efficiency and productivity of farms.

The Wilayat of Al Mudhaibi has great experience in agriculture for its many Aflaj and large agricultural lands.

The people in the wilayat have turned the plains and deserts into gardens and green fields.

They were interested in agriculture and raced to construction, as we could find many places, villages and towns with large agricultural areas.

They also reclaimed new agricultural areas in the wilaya, such as Wadi Endam, Al Qu'waia', Al Telol, A'Sho'wai, Al Ouqda, Al Ghubrah and others.

The sons of the wilayat have showed interest in growing various crops, including date palms, lemons, papayas, bananas, grapes, quince, and mangoes.

Al Rawdha village is famous for its grapes. Ba'ad and Mizbar are famous for growing quince.

The results of the Agricultural Census indicated that the total area of Al Mudhaibi farms are about 9000 acres, 5594 acres of them are planted, and 4997 acres with date palms.
Share This Post
YOU MAY ALSO LIKE
COMMENTS