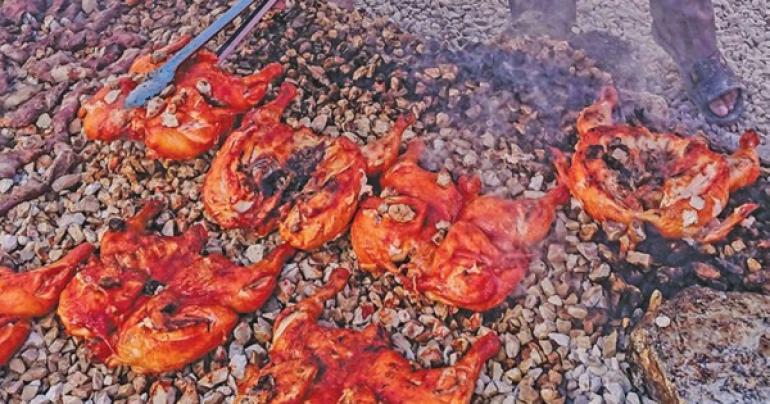 Visit Dhofar to taste Madhbi
The Omani food we eat today does have some striking similarities to the cuisine served in other Arab nations, but few foods are as unique as 'Madhbi'. What makes Madhbi unique is the manner in which it is cooked.

Juicy strips of marinated chicken are grilled over hot river rocks. No ordinary rocks will do here, but only rocks that are found in wadis when they are in full flow. Madhbi is a dish that originated in Oman's southern Dhofar Governorate, and is a cuisine also found in Yemeni culture.
While it might sound a bit peculiar to some, do not greet Madhbi with raised eyebrows, for it is a dish that has been made the same way for centuries, and is an integral part of the Omani way of life.
Grilling these strips of chicken over the perfectly smooth, rounded rocks adds a particular flavour to the Madhbi that simply cannot be achieved through traditional grilling and cooking techniques.

The chicken is only further enhanced by this unique style of cooking, and is one that is not to be missed. Succulent, melt-in-your-mouth pieces of Madhbi are often served either on their own, or with kabsa — an Arabic rice dish — and a salad.
It is perfectly common for family members to sit around and share a massive plate of madhbi, while eating the meal with their hands. Many Omani and Yemeni restaurants in the Sultanate serve Madhbi, but for a truly authentic experience, do head to someone's home to not just partake in the eating, but also witness the preparation of the Madhbi, for it is truly mesmerising.

This makes being invited to someone's house to share a meal of Madhbi all-the-more special, for when an Omani family invites you to their home, they are treating you as one of their own, and are extending to you the traditional Omani hospitality that is provided to honoured guests.

Photos by Shabin E.
Should you head to the Dhofar, there is where you will find the truest experience of Madhbi, for the culture of searing meat on these wadi stones was indeed birthed there.
tag: blog , oman , traveltourism
Share This Post
YOU MAY ALSO LIKE
COMMENTS